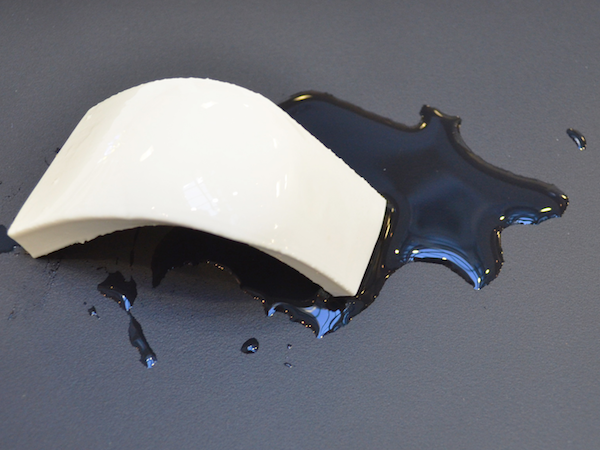 ZE DAILY MATERIO'
R2100    Super hydrophile
Voici un élastomère qui n'a qu'une seule passion : l'eau. Dès qu'il est plongé dans un liquide, le voilà qui s'en gorge. Grâce aux composants hydrophiles intégrés au TPE, le plastique gonfle, enfle, pouvant atteindre jusqu'à 1000% de sa taille initiale. Une fois que l'eau disparait, le matériau revient à sa taille initiale. Ce procédé peut être répété un nombre quasi illimité de fois. 100% recyclable, ce plastique existe également en une grande variété de couleurs. Autre propriété interessante à son actif, ce plastique est partiellement moulable lorsqu'il est humide, gardant la forme contrainte une fois sec. Surtout utilisé pour la fabrication de joints retenant l'eau, d'autres applications peuvent évidemment être envisagées.
Attention, à noter dans vos tablettes, prochain frühstück (présentation des 30 dernières nouveautés de la base matériO') jeudi 24 octobre de 9h à 10h. Inscription nécessaire par simple retour de mail, les places étant limitées.
R2100    Super Hydrophilic
The only passion of this plastic is water. As soon as it is immersed, it fills itself with liquid. Thanks to hydrophilic particles integrated in this TPE plastic, it expands and can reach up to 10 times its original size. Once dry, it shrinks back to its original size. The process can be repeated almost an unlimited number of times. 100% recyclable, this plastic exists in a variety of colours. Last interesting property, this plastic is partially moldable when wet, keeping the form constrained when dry. Mostly used in construction joints, we can obviously imagine other applications.
Your attention please, next frühstück (presentation of the last 30 novelties of materiO') Thursday, October 24 from 9h to 10h. Registration required by simple return mail, places are limited.