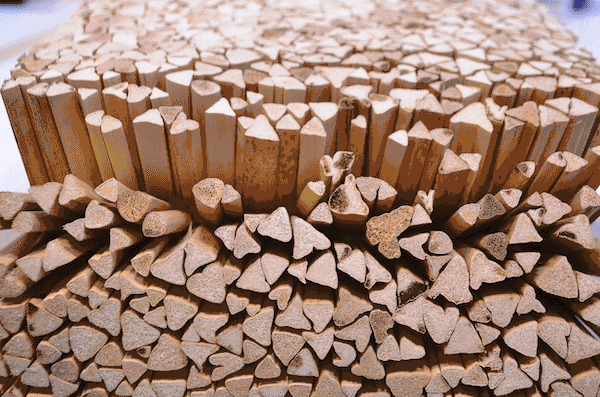 ZE DAILY MATERIO'
W0561    Une fourrure végétale 
Cette surface "textile", mi-souple, mi-rigide, est réalisée à partir de tiges creuses de Totora juxtaposées finement et collées à une base textile. On obtient alors un matériau souple dans un sens et rigide dans le sens inverse. Cette espèce végétale indigène originaire des Andes est utilisée depuis des générations pour construire des maisons, des sols ou encore des bateaux. Proposé aujourd'hui en natte, semelle, tapis, revêtement mural, éléments de mobilier,  accessoires de mode etc..
Deux événements à noter dans vos tablettes. matériO est présent au salon M&O (hall 6), du 17 au 21 (invitations disponibles sur demande), et frühstück le jeudi  30 de 9h à 10h (inscription par retour de mail).

W0561    Like a Vegetal Fur
An intriguing "textile" surface, semi-flexible, semi-rigid, which is made from hollow Totora stems juxtaposed finely and glued to a textile base. The material is flexible one way and rigid the other. It can be used for different purposes, from furnitures to flip flops. This indigenous plant from the Andes has been used for generations to build houses, floorings or even boats. Today offered in mat, sole, carpet, wall covering, furniture elements, fashion accessories etc. 
Two events to note in your agenda. matériO will expose at M&O show (hall 6), from 17 to 21 (invites available on request), and frühstück on Thursday 30 from 9am to 10am (registration by return mail).