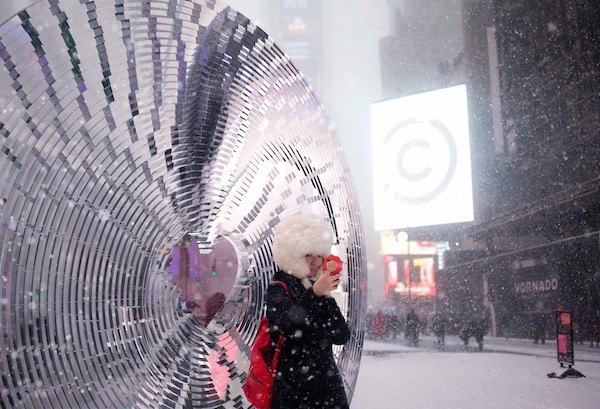 ZE DAILY MATERIO'
R2199    Valentine's Time (Square) 
Si vous passez aujourd'hui sur Times Square, vous ne pouvez pas rater la plus grande lentille de Fresnel du monde. Cette lentille géante, de presque 4 mètres de diamètre, a été réalisée en impression 3D, la société  formlab utilisant sa résine la plus transparente pour maximiser l'effet de loupe et de diffraction. Au centre est délicatement découpé un coeur. Ainsi, les passants voient la ville et ses lumières en grand, en éclaté, et si possible avec leur Valentine qui pose au centre. Va y avoir du Valentine's selfie, ce soir, sur Times Square!
DERNIER JOUR pour vous inscrire et participer demain à notre frühstück, de 9h00 à 10h00. Inscription (obligatoire), par simple retour de mail.
R2199     Valentine's Time (Square)
If you spend today on Times Square, you can not miss the biggest Fresnel lens in the world. This giant lens, almost 4 meters in diameter, was made in 3D printing, and formlab used its most transparent resin to maximize the effect of diffraction. In the center, you can observe a delicate carved heart. Thus, passers-by see the city and its lights in large, if possible with their Valentine posing in the center. There is going to be a big jam tonight in Times Square, for the selfies ...
 LAST DAY: Our next frühstück, Thursday, February 15, from 9:00 to 10:00. Registration, as usual, by email.