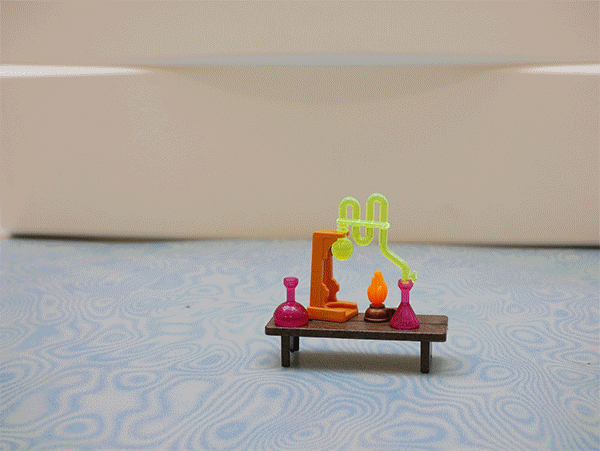 ZE DAILY MATERIO'
W0665    Topo-Psycho-Trip
Bon, honnêtement le scénario du GIF était clair sur le papier, pas en réalisation… mais le propos est ailleurs: Un matériau coloré, composé de résines coulées sur un contreplaqué en bouleau. Ce revêtement, aux effets visuels topographiques séduisants, est réalisé d'après une technique inspirée des laques japonaises de l'île d'Hokkaido. Le procédé consiste à superposer plusieurs couches de résine teintée (différents tons) sur du contreplaqué en bouleau, puis de poncer la surface pour révéler les différentes couches. Résistant, imperméable, apte au contact alimentaire, simple à assembler, mais aussi très facile à entretenir et à réparer, ce matériau est idéal comme plan de travail, comme cloison, etc... Il convient aussi bien à un usage en intérieur qu'en extérieur. L'opacité et la profondeur de chaque couche de résine peut être adaptée, afin de confectionner le panneau de vos rêves, même les plus louches! 
Une semaine supplémentaire d'adhésion offerte à nos lecteurs qui livreront un déroulé clair et cohérent de la petite saynète du GIF. Vos propositions par simple retour d'e-mail.
W0665    Topo-Psycho-Trip
We have to admit our storyline was much clearer on paper  - on film you might be a bit perplexed? In any event…. a solid surface material on a birch plywood substrate. The spectacular topographic coating in made using a technique inspired by Japanese lacquerware from the island of Hokkaido. The process involves producing multiple patterned layers of tinted resin in different tones or colours onto Birch plywood. It is highly resilient, long lasting, waterproof, food safe, repairable and ready for joinery, but also very easy to clean, maintain and repair, which makes it ideal for tabletops, kitchens, bathrooms, cladding... It is suitable for interior and exterior use. New colourways are regularly created and added to the collection (eight patterns), but panels can also be created on demand. It can be custom coloured and the opacity and translucency of each colour layer controlled to make it as bold or as subtle as you want!
Whoever is able to send us a good description of the small sketch on the GIF wins an additional week of materiO membership. Reply via e-mail!