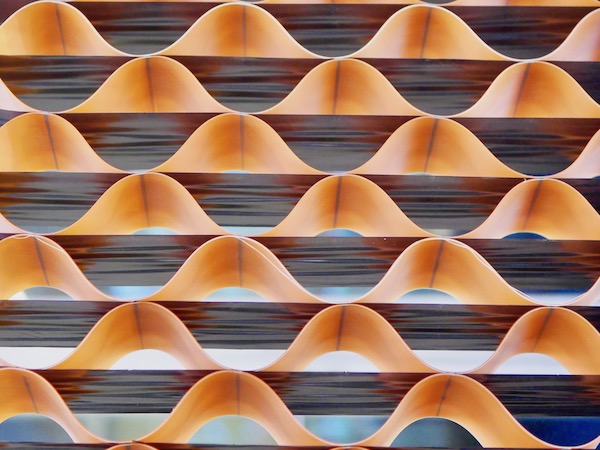 ZE DAILY MATERIO'
R2483    Nida thermo-extensible
Une structure nid d'abeille d'apparence somme toute classique, et qui sert principalement d'élément de rétention des eaux pluviales sur les toitures et terrasses. Les cellules hexagonales servent alors de reservoirs temporaires afin que l'eau s'écoule plus progressivement, évitant ainsi les inondations. Mais ce qui est extra-ordinaire ici, c'est que le nida se présente au départ non déployé, de simplement bandes de feuilles de polypropylène étant soudées ensembles, avec en alternance un film polymère thermo-rétractable. Une fois les blocs reçus sur le chantier, il suffit alors de les plonger dans l'eau chaude pour que les intercalaires se rétrécissent et permettent aux nid d'abeille se déployer sous sa forme alvéolaire régulière. Le phénomène est tout simplement magique, et pourrait dans vos mains trouver d'autres emplois.
membre matériO', vous retrouverez l'intégralité de cette fiche en vous connectant sur la base en tapant sa référence.
R2483    Thermo-Stretch Honeycomb
A "classical" PP honeycomb structure, which serves mainly as a water tank, retaining storm rain by being placed under roofs or terraces. The hexagonal cells then serve as temporary reservoirs so that the water flows more gradually, thus avoiding flooding. But what is extraordinary here is that the honeycomb appears initially undeployed, simply strips of polypropylene sheets being welded together, alternately with a heat-shrinkable polymer film. Once the blocks have been received on site, it suffices to immerse them in hot water so that the spacers shrink and allow the honeycomb to unfold in its regular alveolar form. The phenomenon is simply magical, and could in your hands find other applications.
matériO' member, you'll have a direct access to the full ID card of the product on the database, all you need is the reference.