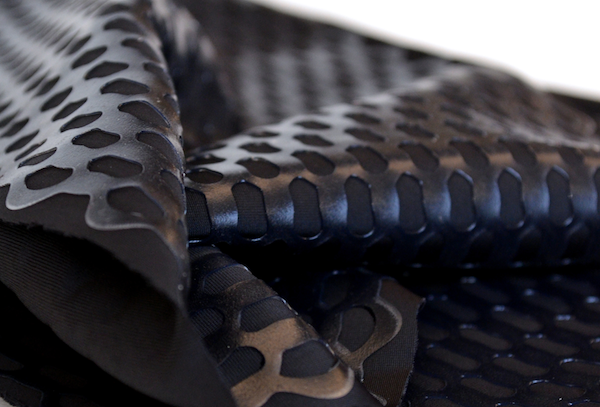 ZE DAILY MATERIO'
R1850    Siliconés
Dépôt de film, gel, plaque silicone sur différents supports, principalement textiles, pour un aspect lustré, un contact gommeux, une surface partiellement agrippante. La gamme des grades de silicones apposés est large, allant des gels à faible dureté shore à des silicones à haute ténacité. Toutes couleurs possibles, jusqu'aux métallisés, fluorescents ou phosphorescents, pour des applications dans la mode, le sport ou l'industrie.
membre matériO', vous retrouverez l'intégralité de cette fiche en vous connectant sur www.materio.com en tapant sa référence.
R1850    Siliconed
This company knows, among other things, how to coat materials, especially textiles, with silicone of various thickness, hardness and designs. The silicone can also be applied in various colors, from metallic effects to fluorescent or phosphorescent. A process widely used in fashion, sport garments or even industry.
matériO' member, you'll have a direct access to the full ID card of the product on www.materio.com, all you need is the reference.