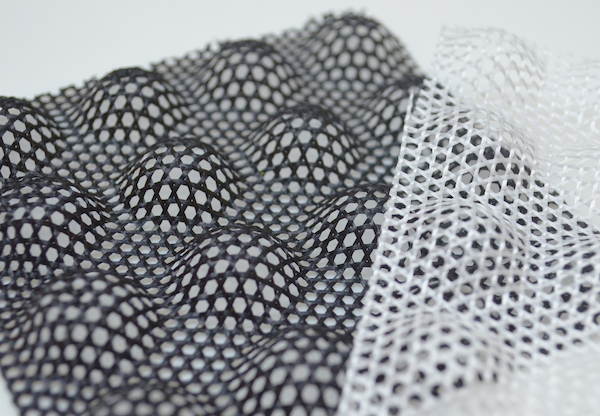 ZE DAILY MATERIO'
T1002    Super Tissage
Le tissage triaxial permet d'obtenir des tissus ultra-légers et très solides. Contrairement au tissage de chaîne et trame, le tissage triaxial utilise trois fils qui se croisent en diagonale à 60°, ce qui renforce la solidité puisque les tensions sont réparties dans tout le tissu. Par ailleurs, le croisement spécifique des fils permet des mises en forme 3D complexes. Des structures similaires se retrouvent dans la nature, comme le tissu rétinien de l'oeil. On peut aussi le mouler en utilisant une fibre au coeur à haute viscosité et à surface sensible à la chaleur. Textile tenace, résistant à la déchirure, pour de multiples applications. 
RAPPEL: Frühstück #36, 9 juillet de 9h30 à 10h30, présentation en ligne des nouveautés! Suivez le p'tit dej sur votre écran, prévoyez simplement les chouquettes! Incription en ligne, ici
T1002    Super Weave
Triaxial woven fabric is chosen when a 2D or 3D shape needs an ultra-light and extra strong material. In contrast to the conventionnal woven fabric using two threads, the triaxial one is woved with three threads, intersecting diagonally at 60°, increasing the strength since the tension is dispersed throughout the fabric. Beside, the specific crossing of threads allows to create complex 3D shapes. Similar structures are found in Nature like the tissues of retina in the eye. Several kinds of fibers could be weaved according to this principle, to obtain robuste and flexible fabric, for versatile applications. 
REMINDER: Frühstück #36, July 9 from 9:30 am to 10:30 am, online presentation of new products! Follow the breakfast on your screen, just take care off the chouquettes! Online registration, here