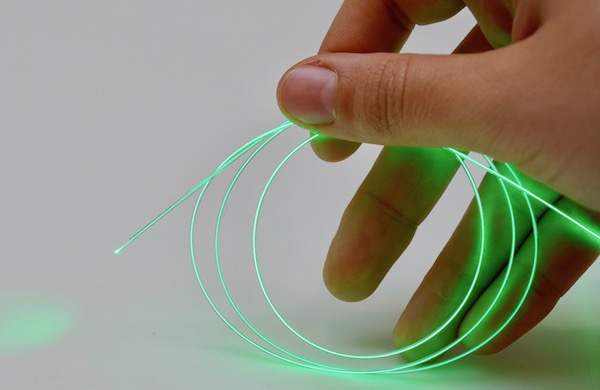 ZE DAILY MATERIO'
G0065    Filaments lumineux
Allez, un peu de lumière sous ce ciel bas, venez donc jouer avec notre kit de démonstration de la fibre optique diffusante la plus efficace du monde. Une section très fine (2/10eme de millimètre), une souplesse déconcertante et surtout une puissance d'émission latérale que nous ne connaissions pas. Au départ développée pour favoriser la culture de certaines algues en laboratoire, cette fibre est si fine et mince qu'elle est presque invisible quand la source lumineuse est débranchée. Potentiellement de multiples utilisations possibles, dans la décoration, la mode, l'automobile, le domaine médical…  
Attention, Ze Frühstück (nos nouveautés matières, toutes exceptionnelles!) aura lieu le jeudi 21 février, de 9h à 10h, avec café & chouquettes. Inscrivez-vous vite par simple retour d'e-mail.
G0065    Luminous Filaments
To find a little light under this low sky, come and play with our demonstration kit for diffusing optical fibers, the most efficient in the world! Very thin in diameter (about 0.2mm), amazingly flexible and above all exhibiting a very high lateral light emission ability… better than anything we've ever seen before. At first developped to help algae grow, this fiber is so thin that it is nearly invisible when the light source is off. Suitable for various applications ranging from decoration, fashion, signage, automotive and medical, to name a few.
Our next Frühstück (our new materials, all exceptional!) will take place on February 21, from 9am to 10am, with coffee & chouquettes. Register now by simple return e-mail.