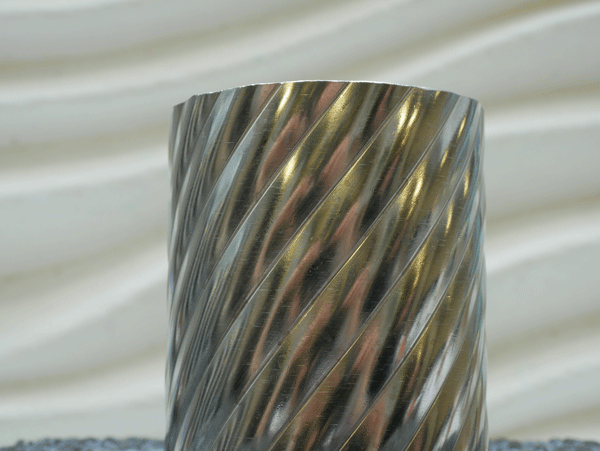 ZE DAILY MATERIO'
M0599    Acier hypnotique
Lampadaires, barrières, potelets… ce mobilier urbain dont la surface est simplement lisse et souvent morne, que l'on remarque à peine, ou parfois trop car anachronique ou froid dans un paysage qui ne s'y prête pas. Voici un procédé qui vient rompre avec la monotonie de ce type d'infrastructure et offre de nouvelles perspectives à ces cylindres d'acier : Semblable à un tour à bois mais cette fois ci sur de l'acier, une machine permet de dessiner des rythmes et ondulations en repoussant la matière (et non en en enlevant) à l'aide d'un galet, donnant une dimension nouvelle et décorative à ces ponctuations urbaines. La mise en forme est appliquée en fin de ligne de production, avec 6 formes différentes proposées et ce sans nuire à la résistance du tube.
membre matériO', vous retrouverez l'intégralité de cette fiche en vous connectant sur la base en tapant sa référence.
M0599    Hypnotic steel
Street lamps, fences, bollards... this urban furniture whose surface is simply plain and often dull, that we hardly notice, or sometimes too much because anachronistic or too cold in a landscape that does not suit it. This process breaks with the monotony of this type of infrastructure and offers new perspectives to these steel cylinders: Similar to a wood lathe but this time on steel, the company has developed a machine that makes it possible to draw rhythms and undulations by pushing back the material (and not by removing it) with a pebble and thus give a new and decorative dimension to these urban ponctuations. Applied at the end of the production line, up to 6 different shapes can be proposed and this without affecting the resistance of the product.
matériO' member, you'll have a direct access to the full ID card of the product on the database, all you need is the reference.