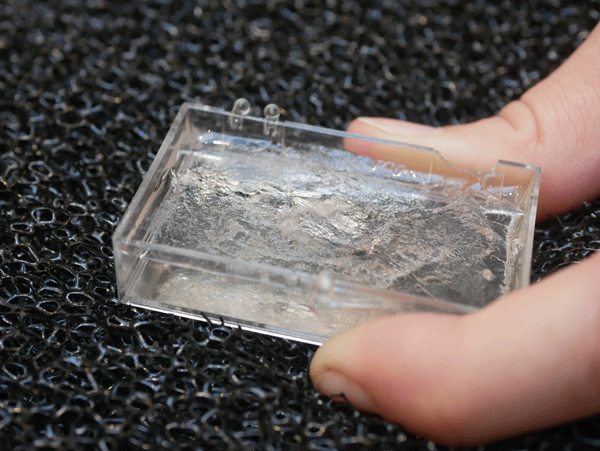 ZE DAILY MATERIO'
R0681    Un silicone qui vous veut du bien... 
Une gamme de silicones collants spécialement élaborée pour des applications médicales, et notamment pour servir de "pansement"  adhésif. Le polymère étant totalement bio-compatible, le pansement protège de manière efficace, l'adhésion totale du silicone permet de stopper rapidement les hémorragies, mais plus encore… il peut contribuer à la cicatrisation des blessures ! Le silicone sert au cinéma à créer de fausses plaies et tous types de blessures sanguinolentes, ici il servira avant tout à les soigner !
C'est officiel, notre prochain frühstück (nos nouveautés matières, toutes exceptionnelles!) aura lieu le jeudi 25 octobre au showroom, de 9h à 10h, autour d'un café/chouquettes. Inscrivez-vous vite, par simple retour d'e-mail.
R0681    Silicone, he's here to help…
A range of silicone specially developed for medical applications, and in particular to be used as adhesive "dressings". These dressings provide an effective protection thanks to the total adhesion of the silicone that allows to stop bleeding quickly, but even more... they can contribute to the healing of wounds! There's someone in our offices who is frightening, because you can see your wound all the time with a transparent bandage ! Silicone is often used for special effects, for once here is a real one!
It's official, our next frühstück (our exceptional new materials!) will take place on thursday, October 25, from 9h to 10h pm. Register quickly, by simple return e-mail.