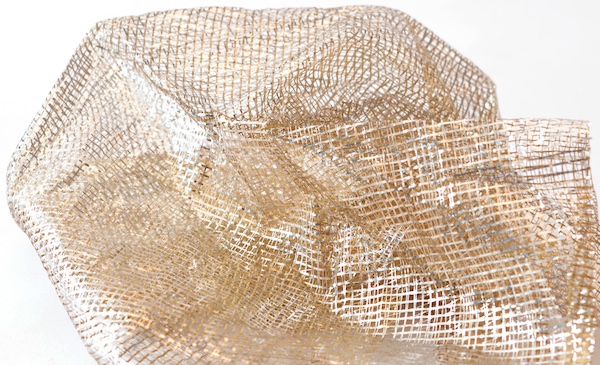 ZE DAILY MATERIO'
T0758    Emballé(e)?
Un non-tissé en fibres synthétiques conçu pour renforcer tous types de matériaux d'emballages ! Sa structure de grille à mailles ouvertes, composée de fibres polyéthylène ou polypropylène thermosoudées, lui confère des qualités de souplesse, de légèreté et de résistance exceptionnelles en proportion de sa fine épaisseur. Eventuellement revêtu d'un aspect or et argent, le textile joue alors avec la lumière. Pour du renfort de sacs de shopping, enveloppes de courrier, protection alimentaire, etc. Grand nombre de coloris disponibles. Emballé(e) ?
membre matériO', vous retrouverez l'intégralité de cette fiche en vous connectant sur la base en tapant sa référence.
T0758    Should we wrap it for you? 
A nonwoven fabric made from synthetic fibres, engineered to reinforce every types of packaging materials ! Its openwork grid structure, constituted with heat-bonded polythene or polypropylene fibres, confers it remarkable qualities as suppleness, lightweight and resistance by comparison with its thin thickness. Coated with gold and silver appearance, the textile plays with light in a unique way. For applications as housewrap, moistureproof packaging material, draining trash bag, delivery & mail bags, shopping bag, produce bag (potato sack), etc. So, should we wrap it for you? 
matériO' member, you'll have a direct access to the full ID card of the product on the database, all you need is the reference.