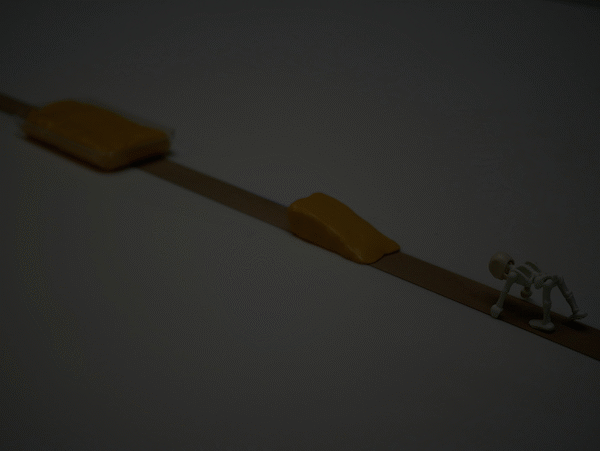 ZE DAILY MATERIO'
R1195    Silicone schizophrène 
Ce qui est très curieux avec les matériaux dits "non-newtoniens", c'est qu'ils sont indécis, ils hésitent en permanence entre des réactions de type liquide ou alors solide, suivant la quantité d'énergie cinétique qu'ils reçoivent. Cette singularité un peu schizophrène est potentiellement très intéressante, elle permet par exemple à notre playmobil d'utiliser ce polymère visco-élastique comme trampoline pour son saut, mais sa reception ratée et molle entraine irrémédiablement sa noyade dans une pâte alors visqueuse. Cette curiosité de laboratoire permet aujourd'hui de fabriquer des coques de protection étonnamment efficaces, car souples et légères, mais qui se contractent et font barrière lors d'un choc violent. 
membre matériO', vous retrouverez l'intégralité de cette fiche en vous connectant sur www.materio.com en tapant sa référence.
R1195    Schizo-Silicone 
What is very curious with the so-called "non-Newtonian" materials is that they are undecided, they are constantly hesitating between liquid or solid reactions, depending on the amount of kinetic energy they receive. This somewhat schizophrenic behavior is potentially very interesting, it allows our playmobil for example to use this viscoelastic polymer as a trampoline for its jump, but its failed and soft reception irremediably causes its drowning in a paste that turned viscous. This laboratory curiosity today makes it possible to manufacture hulls of protection surprisingly effective, because flexible and light, but but which contracts to protect against violent shocks.
matériO' member, you'll have a direct access to the full ID card of the product on www.materio.com, all you need is the reference.