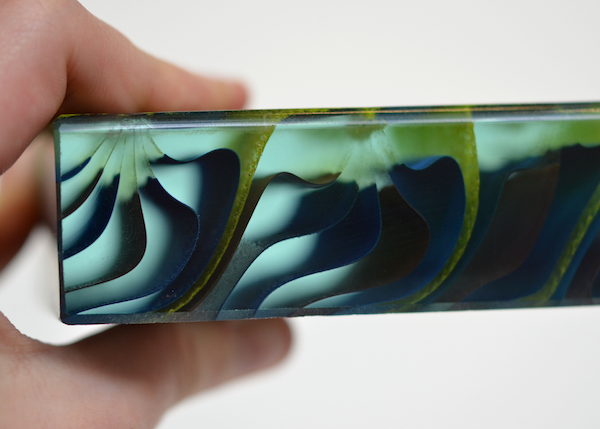 ZE DAILY MATERIO'
G0657    Rubanesque
Ces éléments de verre offrent un effet de profondeur étonnant. En se plongeant dans leur tranche, nous découvrons un monde de rubans colorés qui jouent avec la lumière, et selon leurs orientations, qui peuvent complètement bloquer la vue à travers la paroi ! Constitués d'éléments de verre float colorés et assemblés par un passage au four, avec, en plus, un pourcentage de verre recyclé, ces blocs se déclinent dans de nombreuses couleurs et avec une infinité de combinaisons possibles… Pour comptoirs, bars, tables, cloisons murales, parois intérieures comme extérieures.
membre matériO', vous retrouverez l'intégralité de cette fiche en vous connectant sur la base en tapant sa référence.
G0657    Ribbonesque
These glass pieces exhibit an amazing depth effect. In fact, you can dive into them and discover a world of colored glass ribbons, playing with light, up to the point of, depending on the angle, not being able to see through the panel! Made out of strips of float glass that are colored and assembled vertically in the kiln, with, in addition, a content of recycled glass, these blocks can be manufactured with many colors and an infinity of possible combinations… Suitable for countertops, tabletops and wall partitions in interior and exterior environments. 
matériO' member, you'll have a direct access to the full ID card of the product on the database, all you need is the reference.