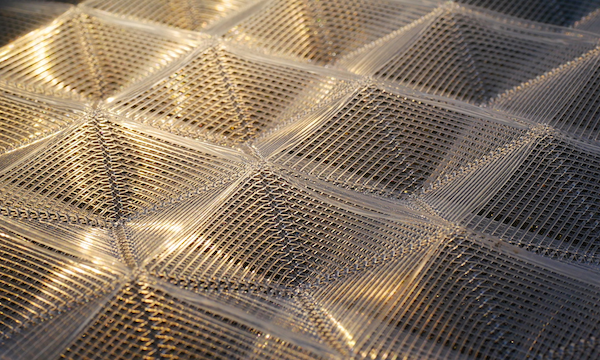 ZE DAILY MATERIO'
T1689    Textile Pyramide
Le tissage pyramidal très spécifique de ce textile mono-filament lui permet d'être particulièrement efficace comme média dans les éléments de filtration des gaz et fluides. En effet, la structure 3D en nid d'abeille empêche la saturation du filtre et donc une chute de pression du flux de gaz. Le tissage est proposé à différentes échelles et finesses, permettant la filtration de particules de l'ordre du micron. Par ailleurs, ce media facilement nettoyable est proposé en différents polymères (PP, ETFE, PFA) et différentes couleurs. Last but not least, et même s'il n'a pas été conçu pour cela, ce textile crée des effects de moirage et autres jeux optiques magiques…
membre matériO', vous retrouverez l'intégralité de cette fiche en vous connectant sur la base en tapant sa référence.
T1689    Pyramidal Textile
The very specific pyramidal weave of this mono-filament textile allows it to be particularly effective as a media in gas and fluid filtration elements. Indeed, the 3D honeycomb-like structure allows an optimized filtration and collection of mist particles, and avoids the filter's saturation and therefore a pressure drop in the gas flow. The weaving is available in different scales and fineness, filtrating any particle above one micron. Moreover, this medium is easily cleanable and available in several polymers (PP, ETFE, PFA) and different colors. Last but not least, and even if it was not designed for this, this cushioned textile creates moiré effects and other magical optical games…
matériO' member, you'll have a direct access to the full ID card of the product on the database, all you need is the reference.