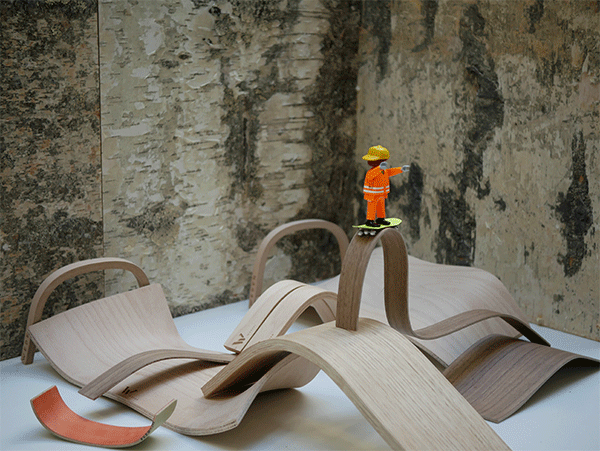 ZE DAILY MATERIO'
W0638    Bois plastique... mais sans plastique 
Avez-vous déjà vu du bois super flexible? Un bois caoutchouteux? Un bois qui peut prendre toutes les formes, comme ici pour imaginer un skate-park de folie pour notre playmo? Ce matériau est un stratifié ultrasouple, composé à 95% de bois non transformé. La composition du matériau est variable localement pour obtenir des produits réalisés sur-mesure. Il offre un large choix d'aspects : 150 essences sont en effet proposées, pouvant être combinées avec des pigments, de la gravure... Bref, un bois super-plastique, mais sans le plastique! 
membre matériO', vous retrouverez l'intégralité de cette fiche en vous connectant sur www.materio.com en tapant sa référence.
W0638    A Plastic Wood... Without Plastic 
Have you ever seen super flexible wood? A rubbery wood? A wood that can take all shapes, like here to consider a crazy skate park for our playmobil? This material is an ultra-flexible laminate, made of 95% untransformed wood. The material's composition is locally variable to obtain tailor-made products. It offers a wide choice of aspects: 150 species are proposed, which can be combined with pigments, engravings… A super-plastic wood, but without plastic!
matériO' member, you'll have a direct access to the full ID card of the product on www.materio.com, all you need is the reference.