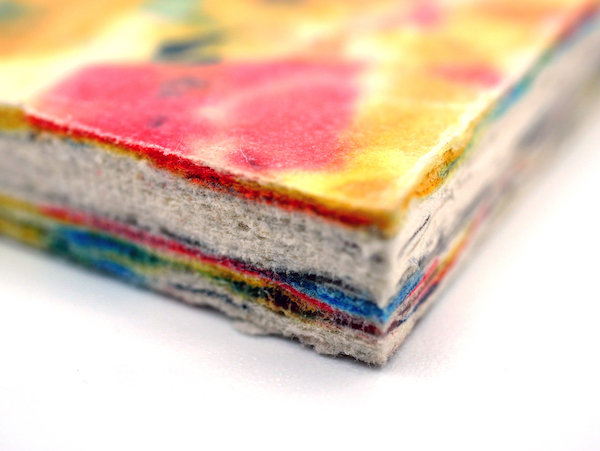 ZE DAILY MATERIO'
R2463    Millefeuille de papier
Et voici le dernier feuilleté du showroom… Un panneau stratifié composé de déchets de papier ignifugé et de polyéthylène. Un mélange de flocons de papier blancs et colorés est pressé à chaud afin d'obtenir une sorte d'aggloméré. De par sa composition il est recyclable à l'infini. Ce matériau est idéal pour la réalisation de mobilier, luminaire, cabane, PLV… Les panneaux sont disponibles en épaisseur de 9 mm et sont aux dimensions de 1,20 x 2 m.
Attention, à noter dans vos tablettes, prochain frühstück (présentation des 30 dernières nouveautés de la base matériO') jeudi 27 février de 9h00 à 10h00. Inscription nécessaire par simple retour de mail, les places étant limitées.
R2463    Paper Millefeuille
The last "feuilleté" of the showroom…A layered panel made of fireproof paper waste and polyethylene. In order to get the final product, white and colored paper flakes are compacted using a heating process. By its very nature it is infinitely recyclable. It's an ideal material to manufacture furniture, lamps, shacks...  Panels are available in 9mm thick, 1.2m wide and 2m length.
Your attention please, next frühstück (presentation of the last 30 novelties of materiO') Thursday, February 27 from 9am to 10am. Registration required by simple return mail, places are limited.