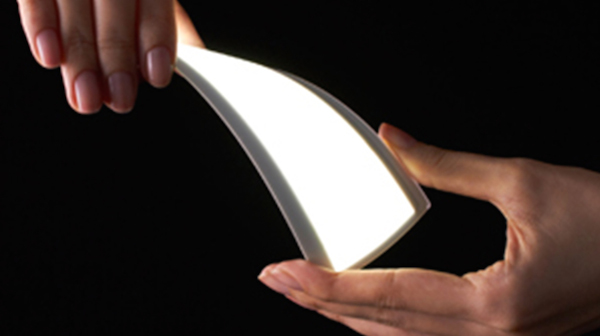 ZE DAILY MATERIO'
O1056    Papier de lumière
Elle a la finesse, la souplesse, la légèreté d'une feuille de papier... mais en plus elle émet de la lumière. Composée d'un film lumineux plus fin qu'un cheveu apposé sur un support plastique, cette feuille OLED émet une douce lumière dans différentes tonalités. Grâce à cette technologie, il est possible d'appliquer la lumière sur des surface courbes, ou encore de présenter une infinité de motifs avec précision : allumé, le film laisse apparaître une image aux nombreuses nuances tandis qu'éteint, l'image disparait et laisse une surface réfléchissante comme un miroir. Un potentiel énorme à explorer !
membre matériO', vous retrouverez l'intégralité de cette fiche en vous connectant sur www.materio.com en tapant sa référence.
O1056    Paper of Light  
It has the thinness, the lightness of a paper sheet… but it emits light as well! Made out of a luminous film that is thinner than hairs and that is laminated onto a plastic film, this OLED sheet offers a soft light in various color temperatures. Thanks to this technology, it is possible to imagine to place light on curved surfaces, or to create an infinity of precise patterns: when on, the film lets an image with various shades appear whereas when off, the image disappears and only a mirror-like reflecting surface remains. A huge potential to explore!
matériO' member, you'll have a direct access to the full ID card of the product on www.materio.com, all you need is the reference.