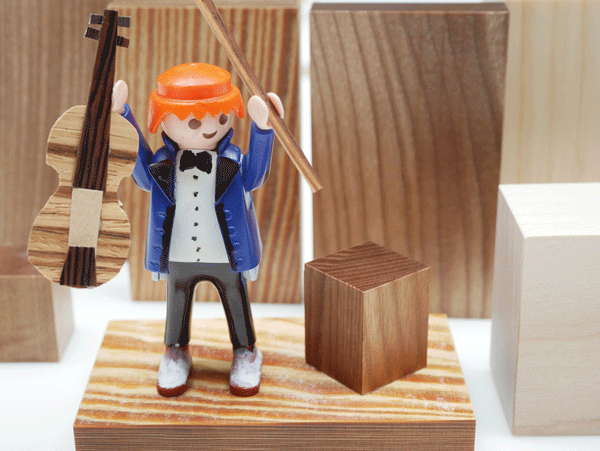 ZE DAILY MATERIO'
W0663    Un bois musical
Curieux de tout à matériO', nous sommes parfois un peu luthiers à nos heures… mais luthiers «nouvelle génération», évidemment ! Certaines essences fines de bois tropicaux sont très appréciées pour élaborer de bons instruments de musique, mais nous avons préféré utiliser un tout nouveau matériau bois, spécialement développé pour construire des instruments de musique tout en préservant les essences tropicales, en fort déclin à force de subir notre gourmandise musicale… Résultat d'un procédé physico-chimique qui infuse un polymère dans des bois domestiques (noisetier, épicéa, érable…), les propriétés de ces bois se trouvent augmentées: Résistance à l'eau, belle sonorité acoustique, stabilité, densité, dureté…  pour arriver à des propriétés mécaniques identiques voire supérieures à celles des bois tropicaux, et toujours manipulables avec des outils traditionnels de travail du bois. Une prouesse appréciée lorsqu'on veut fabriquer un Stradivarius rapidement pour un daily. 
Attention, Ze Frühstück (nos nouveautés matières, toutes exceptionnelles!) aura lieu le jeudi 27 juin, de 9h à 10h, avec café & chouquettes. Inscrivez-vous vite par simple retour d'e-mail. 
W0663    A musical wood
We are full of talent at matériO',  we even have luthier's talents, see... ... But "new generation" luthier, of course! Unlike traditional tropical woods, everyone's favorite for making good instruments, we have used a new kind of wood material, specially developed to build musical instruments, and preserve tropical species, which are in sharp decline due to our « musical greed »… The result of a physicochemical process that inserts a polymer into domestic woods (hazelnut, spruce, maple...) the properties of these woods have been increased:  Water resistance, acoustic efficiency, stability, density, hardness... to achieve mechanical properties identical or even superior to those of tropical wood, and always manageable with traditional woodworking tools, a feat appreciated when you want to make a Stradivarius quickly for a dailymail. 
Our next Frühstück (our new materials, all exceptional!) will take place on June 27, from 9am to 10am, with coffee & chouquettes. Register now by simple return e-mail.