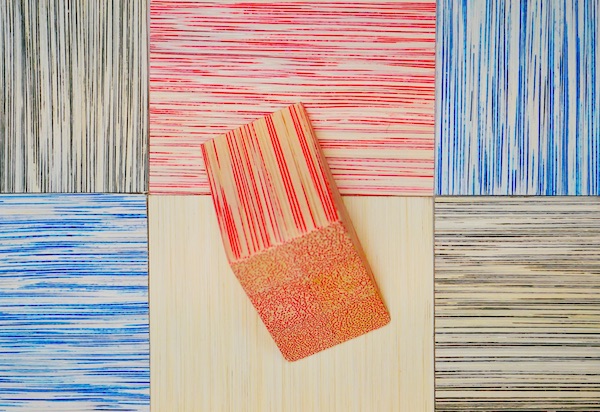 ZE DAILY MATERIO'
W0720    Rotin au carré
Le rotin, c'est rond… oui, mais pas ici! Les tiges cylindriques sont usinées de manière à obtenir des profilés rectangulaires. Ceux ci sont ensuite collés les un aux autres pour obtenir un bloc. S'en suit une étape de coloration selon un procédé breveté, une teinture est infusée le long des capillaires révélant un motif de rayures. Le bloc est enfin coupé finement en feuilles de placage. Celles-ci sont thermoformables, à la manière du bois cintré, en utilisant de la vapeur. Les applications possibles se retrouvent dans le domaine du design, de l'architecture d'intérieur, du luxe, etc..
membre matériO', vous retrouverez l'intégralité de cette fiche en vous connectant sur la base en tapant sa référence.
W0720    Leaf Rattan
Rattan is round … yes, but not here! The cylindrical rods are cut into square shapes. These are then glued to one another to obtain a block. A coloring step follows, according to a patented process, dye is infused along the capillaries revealing a pattern of stripes. The block is finally finely cut into veneer sheets. These are thermoformable, like bentwood using steam. The possible applications can be found in the field of design, interior architecture, luxury, etc.  
matériO' member, you'll have a direct access to the full ID card of the product on the database, all you need is the reference.