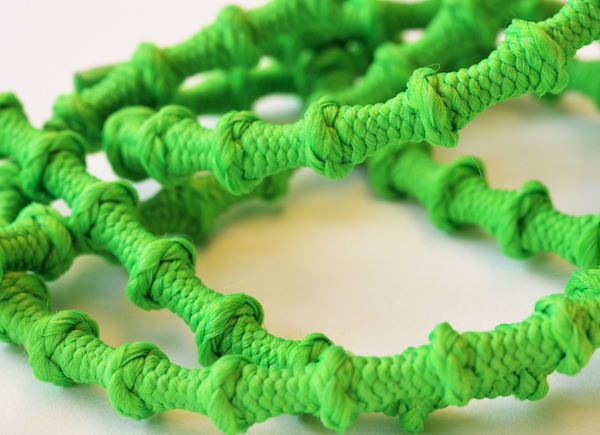 ZE DAILY MATERIO'
T0875    Lacets à boules
Tout va bien? Le matériau du jour est un lacet composé d'une âme élastique et d'une tresse externe comportant des renflements réguliers. Lorsque le lacet est étiré il semble lisse, mais au repos c'est une sorte de lanière à boules, la tresse formant des renflements. Utilisé sur des chaussures à oeillets, les noeuds deviennent auto-bloquants, permettant ainsi une tension ajustable rapide entre chaque jeu d'oeillets. Il ne vous reste plus maintenant qu'à equiper vos Stan Smith avec ces lacets auto-blocants, puis cliquez sur le lien "musique du jour" ci-dessous, montez le volume à fond et tentez de garder le rythme! (décidement matériO' s'occupe de tout, de votre curiosité matérielle, de votre moral et de votre condition physique). 

En cette période de "distanciation sociale" (sic), matériO' vous propose chaque jour avec son matériau extra-ordinaire une musique qui ne l'est pas moins, ici
T0875    Laces with Beads
Everything is fine? The material of the day is an elastic laces made out of a rubber core and self-blocking knots. When tight, the laces look like a smooth rope but when at rest, beads appear. The self-blocking knots allows adjustment of the tension between each set of eyelets. These laces are adapted for all types of shoes (sport, dress, children, hiking) and are available in a large variety of color. So now you takes your Stan Smith shoes (with those selk-blocking laces), then click on the "music of the day" link below, turn the volume down, and try to stay in the groove (definitly matériO' takes care of everything: your material curiosity, your morale and your physical condition).  
In this period of "social distancing" (sic), the Paris showroom is closed but we will not abandon you. Our music of the day here