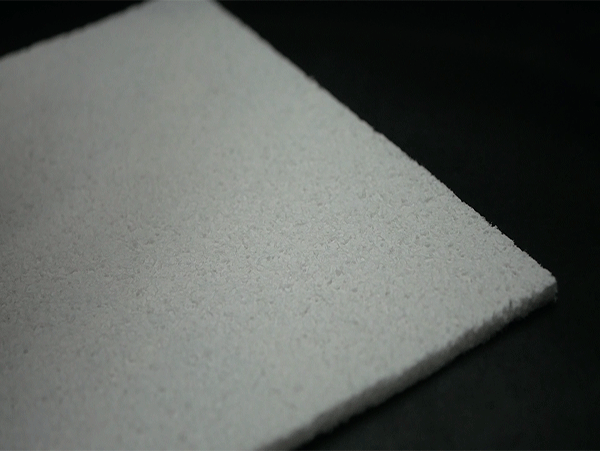 ZE DAILY MATERIO'
G0732    Poussière de mousse de verre... 
Bon, c'est un petit carré blanc tout fin et tout blafard… mais ne vous fiez pas aux apparences, comme dirait Saint-Ex, l'essentiel est invisible pour les yeux (on ne voit bien qu'avec le coeur) ! 
Et que dit le coeur de materiO' ?  Ce mat non-tissé en PET est un extra-matériau ! Notamment car il est saturé d'une grande quantité de poudre d'aérogel de silice, poussière minérale à structure mousseuse faite de millions de cavités nanométriques de poches d'air, ce qui explique sa grande légèreté: 90% de ce matériau est composé d'air ! 
Ce tapis de rembourrage, très léger donc et totalement perméable à l'air, se retrouve doté des merveilleux pouvoirs de l'aérogel de silice: super-hydrophobie, conductivité thermique très faible, isolation acoustique, grande résistance à la chaleur… Relativement rigide, il est néanmoins bien flexible lorsqu'on essaye de le plier, ce qui le rend très facile à manipuler. Industrie automobile, aéronautique, ferroviaire, monde de l'architecture et du bâtiment, le futur est entre vos mains, et à défaut d'être un mouton, un renard ou une rose, c'est un beau carré blanc.
C'est officiel, notre prochain frühstück (nos nouveautés matières, toutes exceptionnelles!) aura lieu le jeudi 25 octobre au showroom, de 9h à 10h, autour d'un café/chouquettes. Inscrivez-vous vite, par simple retour d'e-mail.
G0732    Glass Foam Dust
See this small white square so thin and so pale... do not trust the appearance, as Saint-Exupery would say : what is essential is invisible to the eye  (It is only with the heart that one can see rightly).
And what does matériO's heart say? This PET non-woven mat is a super-material! In particular because it is made from a large quantity of silica aerogel powder, a mineral foam dust with air pores in the range of ten nanometers, which explains its great lightness: 90% of this material is air! 
This padding mat, yet very light and totally permeable to air, is therefore endowed with the wonderful powers of silica aerogel: totally hydrophobic, very low thermal conductivity, acoustic insulation, heat resistance… Relatively rigid, it is nevertheless flexible when you try to fold it, which makes it very easy to handle. Automotive, aeronautics, railway, architecture and construction industries, the future is in your hands, and this is not a sheep or a rose, just a white square.
It's official, our next frühstück (our exceptional new materials!) will take place on thursday, October 25, from 9h to 10h pm. Register quickly, by simple return e-mail.