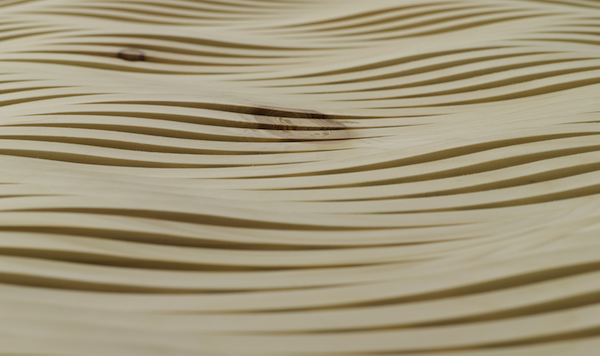 ZE DAILY MATERIO'
W0562    Ondulations boisées
Des panneaux en sapin des Alpes, travaillés de telle façon qu'une subtile ondulation apparait. Le panneau peut être translucide sous certains angles. Par ailleurs, la découpe en profondeur permet de multiplier la surface du lambris au contact de l'air, favorisant la diffusion de l'odeur du bois et d'un composé (0,5% de pinosylvine) présent en son coeur et ayant des qualités anti-bactériennes et fongicides. 
Attention, Ze Pausenbrot (nos nouveautés matières, toutes exceptionnelles!) aura lieu le jeudi 25 Avril à 16h au Carreau du Temple, à l'occasion de Materials&Light. Inscrivez-vous vite par simple retour d'e-mail.
W0562    Woody Waves
These panels, made out of fir tree wood from the Alps, are shaped so that they offer an undulating surface and even translucency depending on how you look at them. Deeply cutting the wood like that also multiplies the surface in contact with air, the fragrance of the wood is then released as well as a specific component having antibacterial and fungicide caracteristics. 
Our next Pausenbrot (our new materials, all exceptional!) will take place on April 25, from 4pm to 5pm, at Materials&Light. Register now by simple return e-mail.