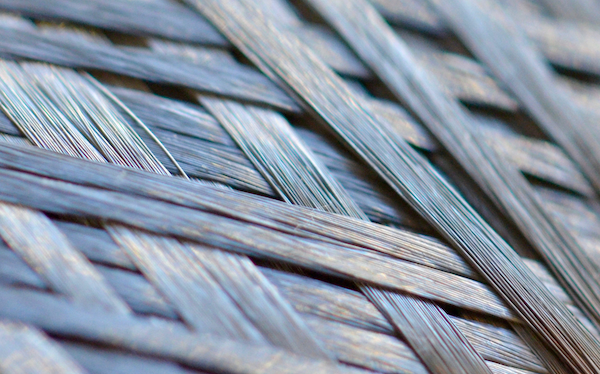 ZE DAILY MATERIO'
C0569    Fibre pour composite poids plume !
Ah bah voila! Vous l'avez raté. Si vous lisez ce daily, c'est vraisemblablement que vous n'êtes pas parmi nous pour le Frühstück Saint-Nicolas. Reportage demain, mais pour aujourd'hui, une fibre haute performance fabriquée à partir d'un polypropylène base oléfine à haut module. Personnellement je ne sais pas trop ce que cela veut dire, mais les caractéristiques sont bluffantes: une très grande résistance à la rupture pour la fibre technique commercialisée la plus légère qui existe. Hautement cristalline, hydrophobe, recyclable, elle offre donc résistance, ductilité, amortissement et poids plume. Elle permet de protéger des fibres comme les fibres de carbone, de verre ou de basalte. C'est aussi une alternative économique au Kevlar et sa basse densité (0.84 g/cc) la rend intéressante pour des composites légers, des textiles balistiques, des cordes, des raquettes, etc. 
membre matériO', vous retrouverez l'intégralité de cette fiche en vous connectant sur www.materio.com en tapant sa référence.
C0569    A Featherweight Fiber
Oh, there you go! You missed it. If you are reading this "Ze Daily", it is likely that you aren't with us for the Frühstück Sint-Niklaas. Report tomorrow, but today a high performance fiber produced with an olefin based high modulus polypropylene. To be honest, I don't really know what it means but it has amazing characteristics, such as a great resistance to breaking and it is currently the lightest fiber commercially available on the market. It is a highly crystalline, hydrophobic, recyclable fiber that offers toughness, ductility, and damping. It provides protection for high modulus fibers such as carbon, glass, and basalt. It is also an economic alternative to Kevlar and due to the low density (0.84 g/cc) it is suitable for lightweight composites, ballistic textiles, ropes, and netting, etc.  
matériO' member, you'll have a direct access to the full ID card of the product on www.materio.com, all you need is the reference.