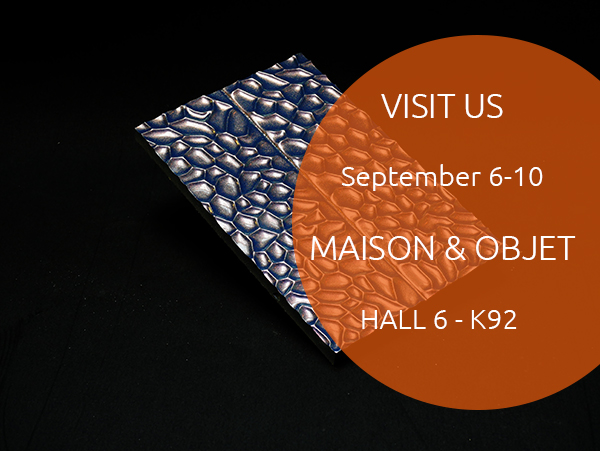 ZE DAILY MATERIO'
W0640      Panneaux déco  
Parmi les centaines de matières bizarroïdes qui seront présentées au salon Maison&Objet (du 6 au 10 septembre, Paris Nord Villepinte), des panneaux qui imitent parfaitement tout une palette de textures allant d'un superbe drapé noir à une mosaïque craquelée, en passant par un embossage reptilien…Des effets accrochants et grandioses pour un poids plume ! Les panneaux sont appareillés afin de créer un aménagement continu. Bon, pas évident d'accrocher un tableau sur votre mur après, mais c'est un choix…
matériO' a mis de coté une quinzaine d'inviations pour ses cher(e)s membres. Envoyez-nous vite un mail si vous souhaitez en profiter!
W0640    Decorative panels
Among the hundreds of bizarre materials that will be presented at Maison&Objet (September 6-10, Paris Nord Villepinte), Panels that perfectly mimic a whole range of textures, from a superb black drape to a cracked mosaic, including reptilian embossing... Effects that impact, catch, and impress for a light weight! The panels are fitted to create a continuous layout. Well, it's not easy to hang a painting on your wall afterwards, but it's a choice...
matériO' has set aside about fifteeen M&O invitations for its dear members. Send us an email soon if you wish to benefit from it!