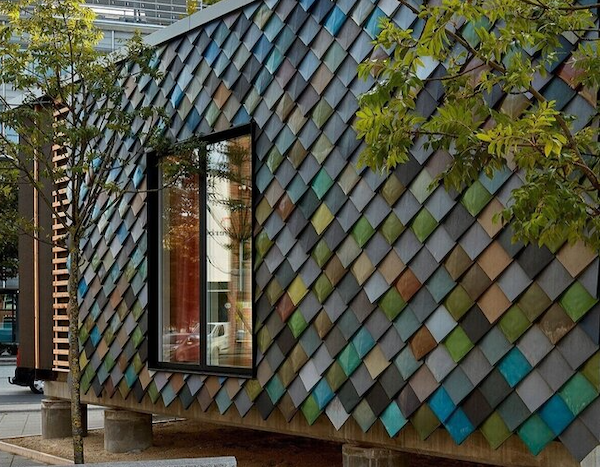 ZE DAILY MATERIO'
R2471    Losange PVC
Ces tuiles sont fabriquées à partir de déchets de PVC provenant du secteur du bâtiment, tels que les cadres de fenêtre ou les tuyaux d'évacuation. Produites en forme de losange, elles sont ensuite utilisées pour les revêtements de façade, elles sont imperméables, ignifugées et résistent aux conditions météorologiques extrêmes. Parce que seuls des déchets sont utilisés dans le processus de production, chaque carreau est légèrement différent, ce qui donne aux façades un aspect naturel.
RAPPEL: Frühstück #37, 24 septembre de 9h00 à 10h00, présentation en ligne des nouveautés! Suivez le p'tit dej sur votre écran, prévoyez simplement les chouquettes! Incription en ligne, ici 
R2471    Diamond PVC
These tiles are made from PVC waste from the construction industry, such as window frames or line pipe. Produced in the shape of a diamond, they are then used for facade cladding, they are waterproof, fireproof and withstand extreme weather conditions. Because only waste is used in the production process, each tile is slightly different, giving facades a natural look.
REMINDER: Frühstück #37, September 24 from 9:00 am to 10:00 am, online presentation of new products! Follow the breakfast on your screen, just take care off the chouquettes! Online registration, here