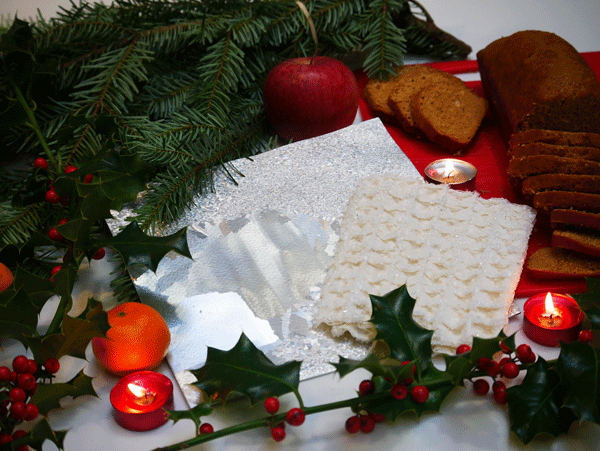 ZE DAILY MATERIO'
Une journée qui ne manquait pas de sel
La journée portes-ouvertes du showroom touche à sa fin, les membres présents ce matin au frühstück et les visiteurs de cette après-midi on bien entamé notre fameux pain d'épices, agrémenté du beurre de leur choix et le verdict est sans appel : la majorité de nos visiteurs préfèrent le beurre demi-sel, au grand dam du président matériO' ! Nous avons donc décidé de faire durer le plaisir, (ou de vous donner un échantillon de tout ce que vous avez raté si vous étiez absent…!) et de mettre sous le sapin deux petites merveilles qui n'ont au premier abord rien en commun, mais que le principe de cristallisation rapproche : D'un côté une plaque d'étain, décorée de «fleurs de cristaux» grâce à une maitrise parfaite d'une technique très particulière de refroidissement du métal en fusion qui favorise la croissance de cristaux lors du changement d'état, et de l'autre un textile cristallisé chimiquement avec une solution contenant des sels non-toxiques… Définitivement, ça vaut le coup de mettre un peu de sel dans sa vie. Quelques images de cette journée à voir sur notre page FB, ici
membre matériO', vous retrouverez l'intégralité de cette fiche en vous connectant sur www.materio.com en tapant sa référence.
A salty day
The open day of the showroom is coming to an end, the members who were present this morning at the frühstück and the visitors of this afternoon ate a lot of our famous gingerbread, with the butter of their choice and the verdict is irrevocable: most of our visitors prefer salted butter! So we decided to prolong pleasure, (or give you a sample of everything you missed if you were absent...!) and to put under the tree, two small wonders which at first sight have nothing in common, but which the principle of crystallization brings closer: On one side a tin plate, decorated with "crystal flowers" thanks to a perfect mastery of a very particular technique of cooling molten tin which favours the growth of crystals of the metal during the transition to the solid state, and on the other side a textile, chemically washed with a solution containing non-toxic crystal-inducing salts... Definitely, it is worth putting a little salt in your life. Some pictures of this St-Nicholas day can be seen on our FB page, here
matériO' member, you'll have a direct access to the full ID card of the product on www.materio.com, all you need is the reference.