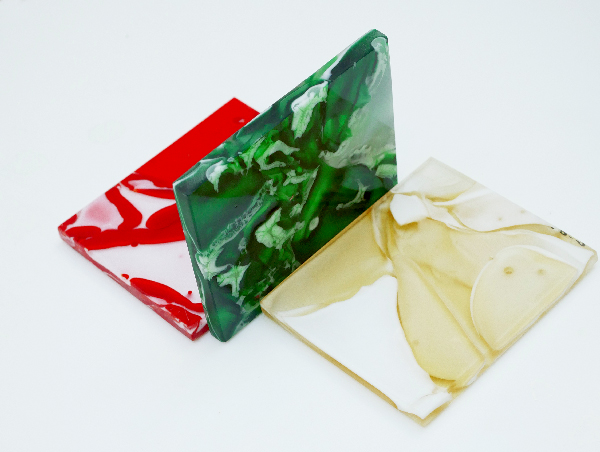 ZE DAILY MATERIO'
G0360   Crème glacée
1 jour, 1 daily, 1 pays ! Juillet entamé, nous vous emmenons en voyage dans des contrées étrangères, et qui recèlent des matières extraordinaires… Aujourd'hui la République Tchèque! ou plus précisement la mythique Bohême, berceau du cristal de même nom et région qui compte encore aujourd'hui la fine fleur des artisans verriers! Ce fabricant de luminaires en verre opalin se désespérait de devoir jeter tous les mois des centaines de kilos de verre coloré opalin, matière hétérogène difficile à recycler car la pellicule laiteuse d'email a un coefficient de dilatation différent du verre coloré classique. 8 ans de recherches furent nécessaires pour developper ce nouveau matériau, et offrir ainsi un débouché judicieux à ces tonnes de rebuts qui s'accumulaient derrière son four de cuisson!  Semblable à une crème marbrée que l'on aurait figée, la plaque de verre est composée de ces fragments de verre de Bohême, unique et non reproductible, découpée au jet d'eau pour une grande précision, et translucide! Et avec ceci? Un cornet citron-framboise s'il vous plait...
La date de notre prochain frühstück est arrêtée: jeudi 25 juillet. Même heure (9h à 10h), et même punition (présentation de nos 30 dernières trouvailles), avec chouquettes et cafés en sus. Inscription pas simple retour de mail.

G0360    Mixed Glass
1 day, 1 daily, 1 country! July started, we take you on a trip to foreign countries, and which have extraordinary materials... Today the Czech Republic! Or more precisely the mythical Bohemia, cradle of the crystal of the same name and country which still counts today the best glass craftsmen! This manufacturer of opal glass luminaires had to throw hundreds of kilos of waste every month, because the heterogeneous mixture of colored glass / milky enamel could not be simply remelted and recycled (difference of coefficiant of thermal expansion between colored glass and opaline layer). 8 years of research were needed to develop this new material, and thus offer a sensible outlet for those tons of waste that accumulated behind its oven! Similar to a marbled cream that would have frozen, glass tiles made of these unique and non-reproducible bohemian glass fragments, cut with a water jet for great precision, and translucent! 
Our next Frühstück (our new materials, all exceptional!) will take place on July 25, from 9am to 10am, with coffee & chouquettes. Register now by simple return e-mail.