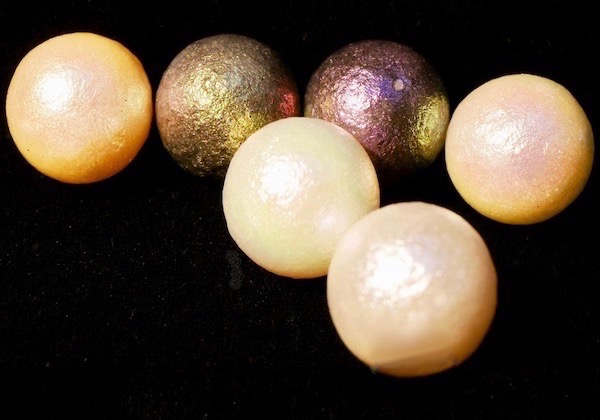 ZE DAILY MATERIO'
G0012    La perle des revêtements
La beauté est affaire de nuances, avec ce revêtement opaque et non-poreux sur des perles de verre (ou de plastique), qui se décline en 16 superbes teintes irisées aux noms de planètes, obtenu par la superposition de couches de couleurs grâce à une technologie japonaise spécifique. La constitution multicouche de la matière lui procure un caractère opalin et iridescent : selon l'incidence de la lumière, deux nuances différentes apparaissent, révélant des variations multicolores et une texture minérale singulière ! Ce traitement de surface peut convenir à des matériaux et de formats différents. Les perles sont proposées en forme de goutte, ovale, sphère, demi-sphère, aplaties etc., et trouvent application en bijouterie, boutons und so weiter.
membre matériO', vous retrouverez l'intégralité de cette fiche en vous connectant sur la base et en tapant sa référence.

G0012    The Pearls of Coatings
The beauty is in the shades, with a non-porous and opaque coating on glass beads, which comes in 16 beautiful iridescent shades with the names of planets, obtained through superposition of color layers thanks to a Japanese specific technology. The multiple coating constitution provides opal and iridescent characteristics : depending on the incidence of light, the material shows two different shades, revealing colors variations and singular mineral texture. Pearls can presents different shapes and sizes : drop, oval, sphere, half sphere, flat etc., and are used in jewelry, buttons and so on.
matériO' member, you'll have a direct access to the full ID card of the product on the database, all you need is the reference.