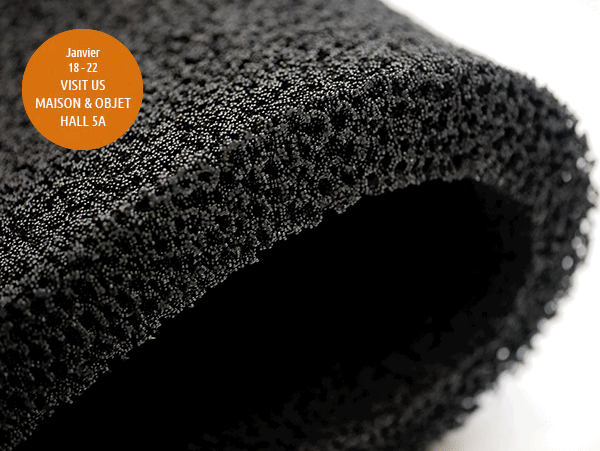 ZE DAILY MATERIO' SPECIAL MAISON&OBJET 
R1461  Purification par le carbone      
Ce matin, c'est caviar ! Ça se passe comme ça à matériO, nous n'attendons pas les grandes occasions pour vous ravir, nous vous servons des mises en bouche de choix pour vous inviter à venir nous voir à Maison & Objet dans une petite semaine…
Cette très belle mousse fait partie des nouveautés étonnantes qui seront exposées sur notre stand : constituée de milliers de petites sphères noires très poreuses solidement accrochées à une mousse PUR, la matière sert de média filtrant extrêmement adsorbant : les petites billes capturent la pollution ambiante ainsi que les mauvaises odeurs, même lorsque l'humidité est très élevée. Le caviar de la purification !  
Encore un des matériaux magiques que nous présenterons lors du salon Maison & Objet du 18 au 22 janvier. Besoin d'une invitation pour venir nous voir? 
R1461     Carbon Purification
This morning, it's caviar, we're like that, we don't wait for big occasions to delight you, we serve you choice appetizers to invite you to come and see us at Maison & Objet in a short week... This very beautiful foam is one of the amazing new products that will be exhibited on our stand: made of thousands of very porous black spheres firmly attached to a PUR foam, this media filter is an extremely adsorbent material: the small beads capture ambient pollution as well as bad smells, even when the humidity is very high. The caviar of purification!
Another magical material we will present at Maison & Objet from 18 to 22 January. Need an invitation to come see us?