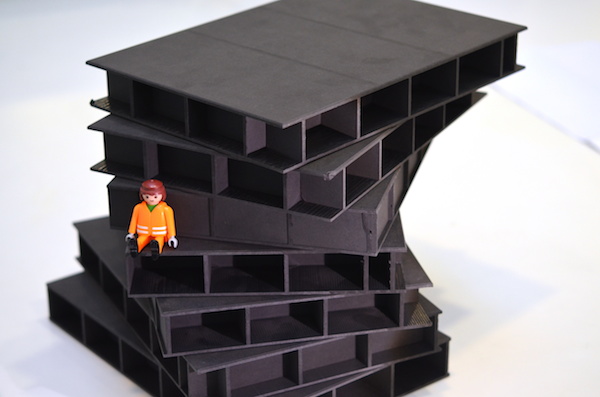 ZE DAILY MATERIO'
W0498    Version noire  
Nous venons de recevoir une nouvelle version de notre panneau ultra-léger avec une âme et des faces en MDF mince. Comme vous pouvez le voir sur la photo, il est noir pleine masse, mais toujours avec une structure interne en forme de grille, renforçant ainsi la résistance et la stabilité du panneau, notamment pour les applications où une bonne résistance au poids est requise. Disponible dans quatre formats standards, en six épaisseurs. A vous de jouer…
Avez-vous bien noté notre prochain frühstück, le 30 mars de 9h à 10h? Inscription par retour de mail.
W0498    Black Version   
We just received a new version of our ultra-light panel made out of a thin MDF core and faces. As you can see it looking at the picture, it is completely black, but still exhibits a grid-like internal structure in order to reinforce its resistance and stability, especially for uses where a good ratio resistance/weight is requested. Available in four different standard sizes, in six different thicknesses. Enjoy!
Have you noted down that our next frühstück will be on 30 March, 9 to 10am? Registration by return of this e-mail.