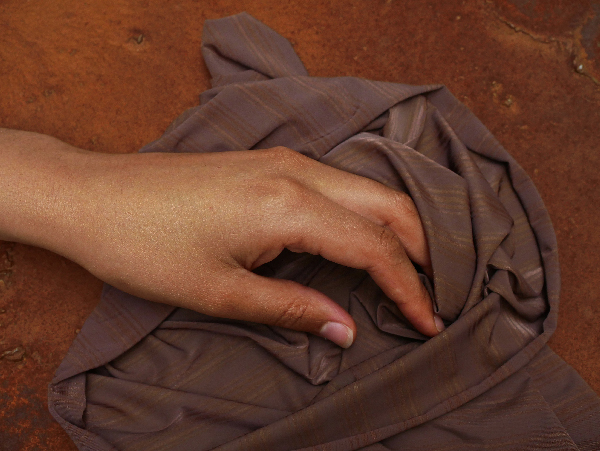 ZE DAILY MATERIO'
T1189   Textile d'or
1 jour, 1 daily, 1 pays ! Juillet entamé, nous vous emmenons en voyage dans des contrées étrangères, qui recèlent de matières extraordinaires… Aujourd'hui l'Espagne ! Et un textile qui détient tout le soleil ibérique dans ses fils: Une fibre composée de nylon et d'or 24 carats (s'il vous plait), conjuguée avec de l'acide hyaluronique pour un complexe détonnant qui rend possible une nouvelle génération de fibres textiles aux propriétés dermatologiques prouvées: anti-vieillissement, anti-oxydation, hydratation... de l'or en fil pour notre fine enveloppe! 
La date de notre prochain frühstück est arrêtée: jeudi 25 juillet. Même heure (9h à 10h), et même punition (présentation de nos 30 dernières trouvailles), avec chouquettes et cafés en sus. Inscription pas simple retour de mail.

T1189    Gold fabric
1 day, 1 daily, 1 country! July started, we take you on a trip to foreign countries, which have extraordinary materials... Today Spain! And a textile that holds all the iberian sunshine in its yarns: A nylon fibre incorporating of no less than 24 carats gold (please) combined with hyaluronic acid for an explosive complex that makes possible a new generation of textile fibres with proven dermatological properties: anti-aging, anti-oxidation, hydration... gold in yarn for our thin skins!  
Our next Frühstück (our new materials, all exceptional!) will take place on July 25, from 9am to 10am, with coffee & chouquettes. Register now by simple return e-mail.