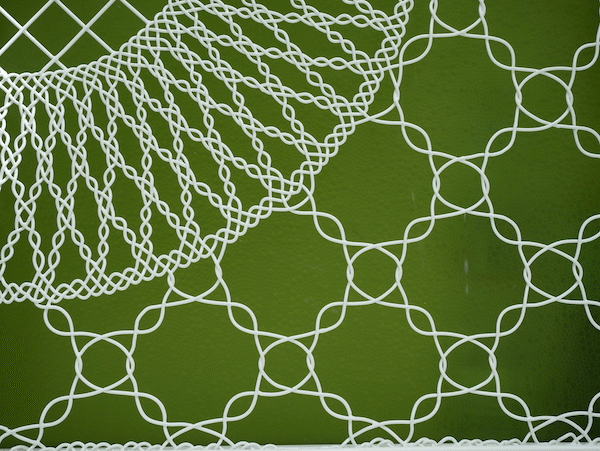 ZE DAILY MATERIO'
M0686    Dentelle de cloture
Aujourd'hui notre playmo a voulu escalader un grillage "toile d'araignée", à ses risques et périls. Il s'agit d'un grillage pour clôture qui combine l'esthetique de la dentelle classique et le maillage simple torsion industriel. Grande variété de thèmes possibles en partant de cette technique, de la dentelle "florale" aux motifs plus contemporains, en passant par des logos ou toute autre proposition, transformant un produit purement fonctionnel en solution décorative, et rendant plus humaine une barrière froide, rapprochant aussi l'industrie et l'artisanat, avec humour. 
Et oui, c'est quotidiennement que nos membres recoivent un petit GIF sans prétention, présentant l'une des 8621 (pointage officiel du 2 mai à 21h48) matières extra-ordinaires qui elles peuvent prétendre aux plus hautes fonctions dans vos futurs projets. Alors, si ce n'est déjà le cas, adhérez, c'est tout simple et c'est ici que cela se passe. 
M0686    Closing Lace 
Today our bold Playmobil decided to climb a spider web fence, a risky attempt. It is  actually high-end mesh for fences that combines the aesthetics of traditional lace and  simple industrial twisting mesh. Many different styles are possible with this technique, from floral lace to contemporary patterns, including logos or any other designs. Thus a purely functional product becomes a decorative one, and a cold barrier is made more human and attractive, a humorous mix between industry and crafts.
Yes, our members receive a modest gif every day, presenting one of the 8621 (official score on May 2 at 09:48pm) extra-ordinary materials which may be called to grand destinies in your future projects. So, If it's not done yet, just subscribe, it's very simple and it happens right here