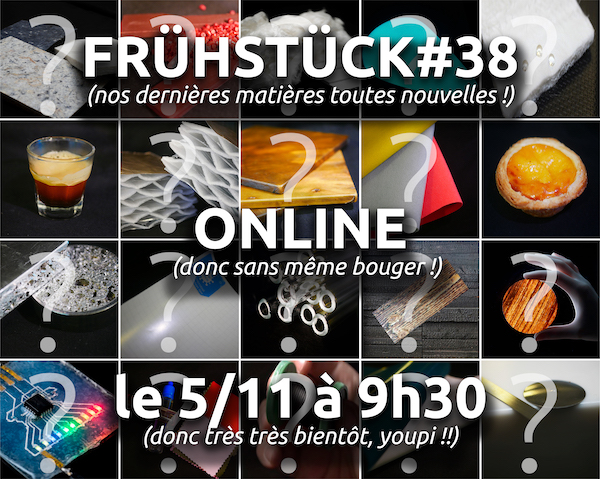 REMINDER FRÜHSTÜCK

FRÜHSTÜCK #38 ONLINE, le 5 novembre 9h30  
Oui, petit rappel pour les étourdis qui ne se seraient pas encore inscrits, prochain frühstück le 5 novembre, de 9h30 à 10h30. Toujours le même programme, présentation d'une trentaine de nouvelles merveilles sélectionnées par matériO', avec explications et moult échantillons, mais comme les dernières fois nous l'organisons en "distanciel", ce qui signifie "sans chouquettes (sur la photo c'est un Pastéis de nata, la boulangerie n'avait plus de chouquettes pour le shooting) ni tripotage". Enfin toujours les mêmes conditions pour participer, être membre matériO' et s'inscrire ici.
ONLINE FRÜHSTÜCK #38 , November 5, 9:30am
Well, a little reminder for the stunned who have not yet registered, next frühstück on November 5, from 9:30 am to 10:30 am. Always the same program, presentation of thirty new wonders selected by matériO', but only online (aka no chouquettes (well, in the photo it's a Pastéis de nata, the bakery had no more chouquettes for the shooting)). Finally, always the same conditions to participate, to be a member, to understand French and to register here.