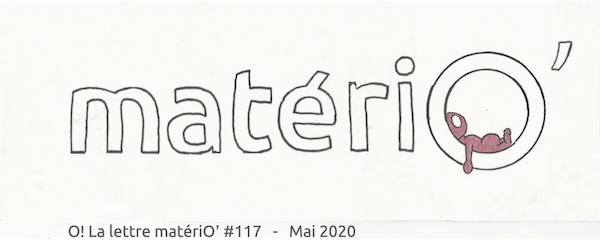 © Augustin Lalo #blinded_colours
 

Jusqu'ici, tout va bien...   

    Je sens confusément (et non confinément) qu'il serait de bon ton, voire attendu que matériO y aille de son petit édito sur cet épisode COVID, c'est ce que font généralement les boites sérieuses. On commence en souhaitant que tout le monde aille bien, on rappelle ensuite que notre première préoccupation, c'est la santé de nos collaborateurs et de nos clients. Ensuite, il est de coutume de dire combien la parenthèse fut curieuse mais aussi féconde, et surtout proclamer que l'après ne sera pas comme l'avant, que cette crise sanitaire peut devenir salutaire si nous savons saisir cette pause comme une introspection et une remise en question du fonctionnement actuel du monde… "Profitons-en pour inventer, innover, rebondir, avancer etc." lance-t-on alors, plein d'entrain et de positive thinking! Oui, c'est sans doute ce qu'il faudrait faire… Certes, moi aussi j'ai été heureux de ré-entendre les p'tits oiseaux qui faisaient cuicui le matin, moi aussi j'ai fait pousser quelques lentilles sur mon balcon confiné, prenant le temps jour après jour de m'émerveiller devant cette nature qui pousse et qui vit…
...mais les considérations qui me viennent alors ne sont pas particulièrement optimistes, et surtout elles s'éloignent du sujet principal de cette newsletter, qui est tout de même le service matériO'… alors, si ça vous dit de lire les élucubrations d'un vieux réac acariâtre et désabusé que l'époque pousse à devenir de plus en plus misanthrope, vous pouvez poursuivre derrière ce lien.
Sinon, si c'est matériO' et ses milliers de matières qui vous intéressent, vous êtes à la bonne adresse, les points principaux étant:
• matériO a travaillé confiné durant ces dernières semaines, mais depuis ce matin le showroom est à nouveau ouvert. 
• Surtout restons curieux, ouverts, pas frileux, pas hypocondriaques. Inspirons et expirons, sans peur et sans masque.
• Adhérons tous à matériO', véritable source d'inspiration, car cette structure indépendante n'est financée QUE par ses membres. 

matériO'


So Far, So Good...


    Out of a sense of confusion, but not of a sense of confinement, I think it would be a good idea, expected even, that matériO gives over its editorial to the COVID crisis – at least, that's what serious firms are generally doing. The place to start is by saying that we hope that everyone is well and reminding everyone that the health of our partners and clients is our overriding priority. Next, it's customary to say how much the lockdown has been strange but productive, and then stating that life after the lockdown will not be like life before it, that good can come from this public health crisis if only we know how to use this pause as an opportunity for reflection and thinking again about how the world currently functions…"Let's use it to invent, innovate, bounce back, move on etc" is the phrase, full of enthusiasm and positive thinking! Of course, that's what we should all be doing. Indeed, I too have been delighted to start hearing again the dawn chorus, to grow some seeds on my little balcony, taking time every day to marvel at nature's ability to grow and live… 
... but the thoughts I have had so far are not particularly optimistic and, moreover, are well beyond the main subject of this newsletter, which, notwithstanding everything else, is about how matériO is operating….but then, if it suits you, to read the scribblings of an old, abrasive, disillusioned reactionary who is becoming more misanthropic by the day, you can continue reading here.
If not, if it's matériO and its thousands of materials that are your main concern, you're in the right place, with the main points being:
• matériO has been closed but working during the last few weeks, but the showroom will be open again from this morning.
• Let's all continue to be curious, open-minded, not overcautious, not hypochondriacal. Let's breathe in and breathe out, without fear and without masks.
• Let's all subscribe to matériO: it's a real source of inspiration with an independent structure financed ONLY by its members.. 

materiO Team

 
matériO' Paris OUVERT
Et oui, à partir d'aujourd'hui, nos membres peuvent revenir déambuler dans les allées du showroom, où des milliers de matières bizarres piaffent d'impatience de les rencontrer. Il reste même peut-être, pour les plus chanceux, quelques oeufs en chocolat de Pâques. Du lundi au vendredi de 9h à 19h, sur RdV.

 

matériO' Paris OPEN
Yes, from today, our members can come back to stroll through the shelves in the showroom, where thousands of bizarre materials are eager to meet them. There may even be a few Easter chocolate eggs for the lucky ones. Monday / Friday from 9 a.m. to 7 p.m., by appointment.

FRÜHSTÜCK #35
Nos membres sont chaleureusement conviés au premier Frühstück post COVID, jeudi 29 Mai de 9h à 10h. GB et DS seront bien sûr parfaitement respectés, mais  nous avons bon espoir de transformer ce frühstück #35  en une FR. Nous vous en dirons plus dès demain matin avec l'envoi de notre daily. Inscription, comme d'habitude, par simple retour de mail.


FRÜHSTÜCK #35
Our members are warmly invited to the first Frühstück post COVID, Thursday May 29 from 9h to 10h. BG and SD will of course be perfectly respected, but we will tell you more tomorrow morning with the sending of our "ze daily". Registration, as usual, by simple return email.

WEBINAR HYLOH
Troisième Webinar pour notre camarade Elodie Ternaux et sa structure Hyloh (network of material minds). Après les thèmes "health" et "transparency", mercredi Hyloh nous parlera "pleasure". Tout un programme, inscription gratuite mais néanmoins nécessaire ici


HYLOH WEBINAR 
Third Webinar for our comrade Elodie Ternaux and her structure Hyloh (network of material minds). After the themes "health" and "transparency", Wednesday Hyloh will speak to us about "pleasure". A whole program, free registration but nevertheless necessary here 
Production confinée
Petit rappel pour ceux d'entre vous qui ont profité de ces deux mois OFF pour hiberner ou qui ont sagement décidé de confiner avant tout leurs appareils numériques: matériO' s'est livré à 4 Webinaires durant la parenthèse, donc 4h passionnantes à visionner ici


Confined Production
Little reminder for those of you who have taken advantage of these two months OFF to hibernate or who have wisely decided to confine their digital devices first and foremost: Materio delivered 4 Webinars during the parenthesis, so 4 exciting hours to watch here