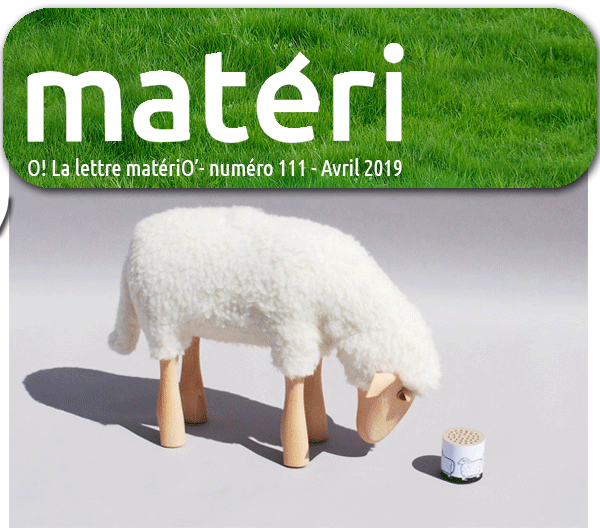 EDITO


On se voit à Milan?


   Actuellement, dans les diners en ville entre créas, la question rituelle est toujours la même lorsqu'un blanc s'installe dans la conversation: On se voit à Milan, t'y vas quand? Donc deux postulats implicites derrière cette question:
1/ Aller à Milan en Avril, ce n'est pas s'offrir quelques jours de farniente dans une belle capitale industrielle pour visiter le Duomo di Milano et déguster des gelati-al-limone arrosées de Spritz en écoutant Paolo Conté, non! Milan en Avril, c'est la Design Week et le Salone del Mobile, forcement!
2/ On n'échappe pas à Milan lorsqu'on est un designer qui se respecte, c'est in-con-tour-nable. Non, aussi sûr que les paraplégiques se rendent à Lourdes, que les financiers vont à Davos, que les nightclubbers se retrouvent à Berlin, que les arbres bourgeonnent au printemps lorsque les robes raccourcissent à la terrasse des cafés et que les moutons entament leur transhumance annuelle dans les alpages, le créa "fait" Milan en avril, forcement!
   Car on "fait" Milan, comme on fait l'Everest ou le gratin dauphinois à la pointe d'ail. Faire Milan, c'est se préparer physiquement pour un trek de forcené afin de voir toutes les expos, tous les off, toutes les rues qui comptent (ou pas), mais c'est en même temps une chasse aux invitations pour soirées branchouilles et happening mondains. C'est enfin une quête incessante pour trouver un endroit où dormir qui ne soit pas un cagibi de 2,5 m2 loué hors de prix. Bref, zeplacetoubi pour le gotha design désœuvré.
   Oui, je sais, on va encore nous soupçonner de snobisme de mauvais aloi, panaché d'une dose d'aigreur ou de cynisme... Mais non! Non, matériO ne "fera" pas Milan, matériO "fera" en revanche Frankfurt pour le salon Techtextil, zeplacetoubi en Avril pour qui s'intéresse à l'innovation dans le secteur des textiles techniques. Je suis d'humeur badine, je pense qu'en octobre prochain et à l'occasion d'un vernissage huppé, je lancerai à mon interlocuteur un laconique et énigmatique "On se voit à Düsseldorf?" rien que pour voir sa tête. Car faire Düsseldorf en octobre, c'est implicitement se rendre à la Große Messe Kunststoff, le rendez-vous mondial des polymères. Ce lieu de villégiature est sans doute moins glam, le risotto au safran y est certes moins bon, mais les matériaux dénichés tellement plus riches et inspirants pour vos futurs projets.

Quentin


See you in Milan?


   Right now, over dinners between creative people, the ritual question is always the same when the conversation reaches a blank: 'See you in Milan. When will you be there?' Which brings us to two implicit basic premises:
1/ Travelling to Milan in April, it is not to treat yourself with a few farniente days in a nice industrial design capital, visiting the Duomo di Milano and enjoying gelati-al-limone basted with Spritz all the while listening to Paolo Conte, no! Milan in April is the Design Week and the Salone del Mobile, of course!
2/ You cannot escape from Milan when you are a self-respecting designer, it is in-es-ca-pa-ble. As certain as paraplegics will visit Lourdes, as financiers will visit Davos, as night-clubbers will meet in Berlin, as trees bud in spring when skirts get shorter and parade at cafe's terraces and as certain as sheep start their seasonal move to summer pastures… designers DO Milan in April, of course!
   Because you actually 'do' Milan as you 'do' the Everest… You need to physically prepare as for a crazy trek in order to cover all the events, all the 'offs', all the streets that matter (or not). It is a real hunt for invites to hype parties, gregarious meetings and socialite happenings, and a constant quest to find a place where to sleep that will not be an outrageously expensive 2.5 sq.meter closet. In short: Zeplacetobe for the idle designer elite.
   Yes, I know, we will once again suspected of snobism of doubtful worth, sprinkled with a touch of bitterness and cynicism… but no! No, matériO will not 'do' Milan, however matériO will 'do'Techtextil in Frankfurt, Zeplacetobe in April for anyone interested in innovation in the technical textile field. I am in the mood to banter, I think that next October during a swanky opening, I will throw a short and mysterious 'See you in Düsseldorf?' just for the pleasure of seeing the reactions. As 'doing' Düsseldorf in October implicitely means you are visiting the Große Messe Kunststoff, the global fair about polymers. This holiday spot is probably less glamorous, the saffron risotto there is definitely less tasty but the materials you find during the event are far more rich and inspiring for your future projects.

Quentin

 
Materials & Light - 24 & 25 Avril, Paris

Venez rencontrer matériO dans un cadre exceptionnel : Le Carreau du Temple à Paris, qui accueille les 24 et 25 Avril le salon Materials&Light, dédié à l'architecture d'intérieur et à la prescription.
matériO a été invité par M&L à présenter une sélection de matériaux singuliers issus de notre veille quotidienne, nous vous invitons à notre tour à venir les expérimenter!


L'inscription est nécessaire pour venir au salon, rendez-vous directement ici
Materials & Light - April 24 &25, Paris


Meet matériO in an exceptional setting: Le Carreau du Temple in Paris, which will host the Materials&Light exhibition on April 24 and 25, dedicated to interior design and prescription. matériO has been invited by M&L to present a selection of unique materials from our daily watch, & we invite you in turn to come and experience it!

Registration is required to come the fair, please go directly here

PAUSENBRÖT - 25 Avril 16h


Attention, on ne le répétera pas, notre prochain Frühstück matériO est EXCEPTIONNEL :
• Il se déroulera exceptionnellement hors les murs, au carreau du Temple, le jeudi 25 avril prochain, lors du salon Materials & Light.
• Il aura lieu exceptionnellement à 16h, il serait donc plus juste de parler de "Pausenbrot" que de "Frühstück", germaniquement parlant :-)
• Ce Pausenbrot est exceptionnellement ouvert à tous, membres comme "pasencoremembres".
Ce qui ne change pas mais demeure tout de même sensationnel, c'est qu'il y aura une trentaine de petites merveilles référencées ces derniers temps par matériO'. Les places sont limitées, et donc l'inscription obligatoire, par simple retour de mail, avec vos noms et société.
PAUSENBRÖT - April 25th 4pm


Our monthly breakfast rendez-vous exceptionally changes skin and will be held during Materials & Light fair, at the Carreau du Temple in Paris. A conference about new materials, know-how and the latest samples received in the showroom... and it will give the people registered the opportunity to visit the fair as well. 

French speaking only.
Register: hello@materio.com 

BREVE: SLOW LENS
«Slow lens» est la dernière pièce de l'artiste Vincent Leroy, fin explorateur de la matière et de ses capacités, qu'il aime pousser dans ses retranchements en jouant avec la lumière et ses effets optiques. Cet assemblage de lentilles suspendues semble flotter dans l'air, sorte de faille spatio-temporelle impromptue capable de découper, dédoubler, réfléchir mais aussi révéler l'espace qu'elle investit. L'artiste a installé ce mirage poétique à plusieurs endroits de la région Parisienne, et notamment sous un pont, ce qui nous offre à chaque fois un troublant jeu d'ombres et de lumière !
NEWS: SLOW LENS...
"Slow lens" is the last piece of the artist Vincent Leroy, a fine explorer of matter and its capacities, whom he likes to push to his limits by playing with light and its optical effects. This assembly of suspended lenses seems to float in the air, a kind of spatio-temporal flaw capable of cutting, splitting, reflecting but also revealing the space it occupies. The artist has installed this poetic mirage in several places in the Paris region, including under a bridge, and offers us a disturbing play of light and shadow! 
POULPE D'AVRIL

Levons tout de suite le doute, car certains de nos lecteurs assidus nous ont demandé des informations complémentaires sur le matériau extra-ordinaire présenté le 1er avril dernier (ici). Donc non, matériO n'a pas encore à disposition au showroom un film plastique, inspiré de la peau d'une pieuvre du pacifique, et qui permettrait de transformer la couleur jaune en un gris passe-partout, et donc par ricochet d'éviter le burn-out des policiers français qui ne supportent plus la vue d'un simple gilet de cette couleur flashy, même sur un chantier ou le susmentionné gilet est obligatoire… non, désolé, Poisson d'Avril!!... Mais des milliers d'autres matières extra-ordinaires, sur la base et dans nos showrooms, ça nous avons, oui! Et pour un accès direct à ces milliers de merveilles, c'est ici

 
APRIL FOOL
Let's immediately remove the doubt, because some of our readers asked us for additional information on the extra-ordinary material presented on April 1st (here). So no, materiO has not yet available a plastic film in the showroom, inspired by an octopus from the Pacific Ocean, and which makes it possible to transform the yellow color into a shade of gray, and thus indirectly to avoid the burn-out French policemen who can no longer stand the sight of a simple yellow-vest, even on a construction site where the vest is mandatory ... no, sorry, it was an April Fool ... But thousands of other extra-ordinary materials, on the database and in our showroom, that we have, yes. And for direct access to these thousands of wonders, it's here