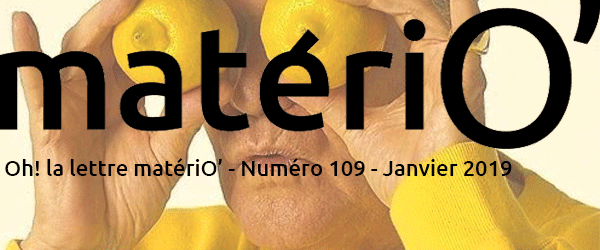 EDITO


Et si 2019... sonnait la fin du déni?


    Y aurait-il une tentation morbide du catastrophisme, une esthétique envoutante du suicide, un vertige du précipice à nos pieds donnant un sens romantique et tragique à l'histoire humaine? L'apocalypse annoncée deviendrait-elle le nouveau grand récit d'un monde désenchanté?
    Nous ne passerons pas en revue toutes les catastrophes, naturelles et humaines, qui ont émaillé l'année 2018, cette longue litanie a déjà été largement rabâchée par les médias. Face à ces événements tragiques et la démonstration désormais établie que le climat se dérègle et que la biodiversité se racornit dangereusement, les gouvernements font preuve une inertie presque totale, voire même parfois d'un déni assez déconcertant. Cette inaction n'a pourtant rien d'étonnant, le mode de fonctionnement, la temporalité, les contraintes et priorités de nos démocraties étant de façon ontologique déconnectés de l'idée d'un temps long. Alors, la catastrophe serait inéluctable?
    Non, car la prise de conscience semble devenir globale et partagée en ce début d'année, elle laisse donc espérer une possible voie de sortie par le haut si et seulement si (moult incertitudes) chacun décide d'agir activement, en dépassant le simple geste "bouteille plastique? dans le bac jaune". Nous, designers, architectes, concepteurs, graphistes, photographes, bricoleurs, ingénieurs, étudiants, imposteurs (ça c'est pour moi), nous sommes amenés quotidiennement à travailler sur des projets ou il nous est demandé de trouver les solutions les plus élégantes, les plus pertinentes, efficientes face au problème posé, au projet soumis. Mais il devient impérieux de remettre éventuellement en question la nature même du projet, sa finalité, sa légitimité, à l'aune des grands enjeux environnementaux qui aujourd'hui doivent primer. Certes on peut aimer trouver des réponses, mais il est primordial de comprendre et accepter la question initiale, son utilité réelle, ses implications, ses conséquences. Au risque de paraitre naïf ou pire, pontifiant, il semble urgent de redevenir pleinement responsables de nos actions, d'exercer en permanence notre libre arbitre, d'assumer nos choix, en nous éloignant d'un dualisme nature/culture qui nous rend étrangers à la biosphère, à sa fragilité et à notre dépendance.
    En 2019, tentons l'improbable, voire l'impossible, pour ne pas voir advenir l'impensable. Mettons dans nos projets du sens, de l'empathie, de la bienveillance, une dose d'humilité, une grande frugalité, de l'intelligence… et un peu de Prozac.

Quentin



And what if 2019... was the end of denial

    Could there be a morbid temptation to catastrophism, a captivating aesthetic of suicide, the precipice at our feet giving a romantic and tragic meaning to human history? Would the announced apocalypse become the new grand narrative of a disenchanted world?
    We won't review every one of the environmental or human catastrophes which scattered over the year 2018, this endless litany having already been widely relayed by the media. In the face of these tragic events and the now established demonstration that climate is getting out of hand and biodiversity becoming dangerously thin, governments are showing almost total inertia, sometimes even a rather baffling denial. This inaction, however, is hardly a surprise, as the mode of operation, the temporality, the constraints and priorities of our democracies are ontologically disconnected from even the idea of a long-term policy. So, is the catastrophe inevitable?
    It is not, for public awareness seems to become more global and common at the beginning of this year; therefore a happy ending is possible if everyone decides to act actively, going beyond the simple "plastic bottle in the plastic bin". We, architects, designers, graphic designers, photographers, engineers, students, impostors (that one's for me), are brought daily to work on projects where we are asked to find the most elegant, relevant, efficient solutions to the submitted projects or problems. But shoudl feel compelled to question the nature of the project, its purpose, its legitimacy, in the light of the major environmental issues that must prevail today. While one may like to find answers, it is essential to understand and accept the primordial question, its real utility, its implications, its consequences. At the risk of appearing naive or worse, pontificating, it seems urgent to become fully responsible for our actions, to exercise our free will, to assume our choices, far from a nature / culture dichotomy that would make us foreign to the biosphere.
    In 2019, let's try the improbable, even the impossible, so as not to see the unthinkable happen. Let's work on chosen projects with empathy, benevolence, humility, sobriety, intelligence ... and a little Prozac.

Quentin

 
APERÇU MAISON&OBJET
En Janvier, comme chaque année, c'est la transhumance hivernale de matériO, désormais aussi classique qu'incontournable. Nous téléportons (en partie seulement) notre showroom à Villepinte pour Maison&Objet. matériO sera heureux comblé ravi de vous recevoir, du 18 au 22 Janvier 2019, Hall 5A, à Paris Villepinte, entre 9h00 et 19h00. Nous vous avons tout dit? Non, une petite précision importante, cette session sera particulièrement riche en superbes échantillons découverts au pied du sapin. Le Père Noël nous (vous) a particulièrement gâtés cette année. Pour une "preview" des plus belles pièces, c'est ici
MAISON&OBJET PREVIEW
This January, as every year, we will go through our usual winter transhumance, now as classic as inevitable for matériO, teleporting (only partly) our showroom to Villepinte for the Maison & Objet fair. matériO will be glad and delighted and so so happy to welcome you at its stand, from 18 to 22 January 2019, Hall 5A, in Paris Villepinte, between 9 am and 7 pm. Did we tell you everything? No we didn't, for this session will be particularly rich in beautiful samples to be discovered under the tree: Santa Claus has spoiled you this year! A little "aperçu" here

LE PREMIER FRÜHSTÜCK 2019
Nous profiterons de notre présence à M&O et avec des centaines de matières extra-ordinaires pour organiser notre frühstück directement sur notre stand, samedi 19 janvier à 10h pétantes. Pour les non initiés, les frühstücks matériO sont des petits déjeuners organisés mensuellement avec nos membres pour leur faire découvrir les dernières petites merveilles référencées par nos services. Donc, si vous ne l'êtes pas encore (membre), profitez de cette occasion exceptionnelle.
THE FIRST 2019 FRÜHSTÜCK
We will take advantage of our presence at M & O with hundreds of extraordinary materials to organize our frühstück directly on our booth on Saturday, January 19, at 10am. For newbies, the materiO frühstücks are breakfasts organized monthly with our members to make them discover the last little marvels referenced by our services. So, if you are not (yet) a member, take advantage of this exceptional opportunity. 
GAGNEZ DES INVITATIONS POUR LE SALON MAISON & OBJET
Allez, pour bien démarrer l'année et parce que matériO est toujours magnanime, nous proposons à ceux d'entre vous qui n'auraient pas encore leur ticket d'entrée, de gagner une invitation pour le salon Maison & Objet. Mais qui dit gagner dit que cela se mérite. Une invitation pour les dix premiers qui nous enverront par simple retour de mail un acrostiche avec les lettres "MATERIO". A vos claviers, bonne inspiration! 
WIN SOME INVITATIONS POUR LE SALON MAISON & OBJET
To start the year well, and because matériO is a kind and generous institution, we suggest those of you who don't have their ticket to win an invitation for the Maison & Objet fair. Winning means deserving, though. The first ten who mail us an acrostic of the letters "MATERIO" will get those invites to the fair. Language artists, to your keyboards!