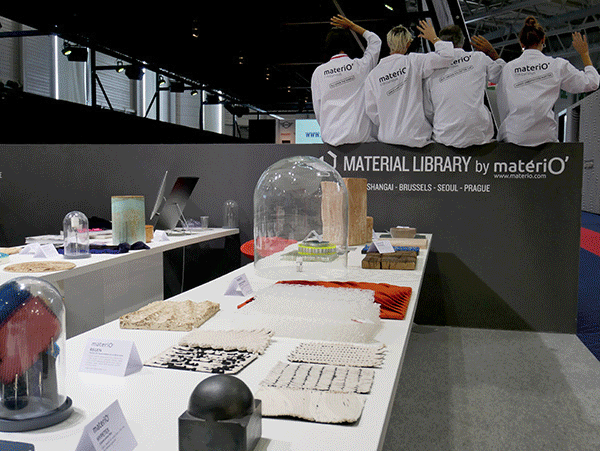 MATERIO' AT MAISON & OBJET                                                                  FRÜHSTÜCK AT MATERIO' 

Merci, danke, choukran, gracias, grazie, arigato… d'être venus si nombreux nous rendre une petite visite au salon Maison & Objet, d'avoir partagé notre émerveillement devant ces dizaines de nouvelles matières présentées, d'avoir même pour certain(e)s échangé quelques volants de badminton. Quelques images volées de ces 5 jours à Villepinte sur notre page FaceBook, ici . Par ailleurs, et cette fois-ci en direction de nos membres, matériO organise son Frühstück mensuel le 27 septembre prochain, comme à l'accoutumé dans un format court, de 9h à 10h, pour présenter au showroom les derniers trucs extra-ordinaires reçus, le tout accompagné des classiques café/chouquettes/jus. Séquence "curiosité" réservée à nos membres, inscription par simple retour de mail.
Frühstück le 27 septembre, 9h - 10h, inscription par simple e-mail (members only, sorry)
Thanks, merci, danke, chukran, gracias, grazie, arigato … to all of you - and you were many - who came to see us at Maison&Objet and who shared our wonder in front of the dozens of new materials we presented. We even exchanged a few badminton shuttlecocks with some of you. Discover few stolen images of these 5 days in Villepinte on our FaceBook page. Moreover, just for our members, matériO organizes its monthly Frühstück on September 27, as usual in a fast format, from 9am to 10am, to present in our showroom the latest extra-ordinary stuff we received, accompanied, as usual, by coffee / chouquettes / juices. A« Curiosity » time reserved to our members, registration by simple return of this email.
Frühstück 27th September, 9am - 10am, registration by simple e-mail (members only, sorry)