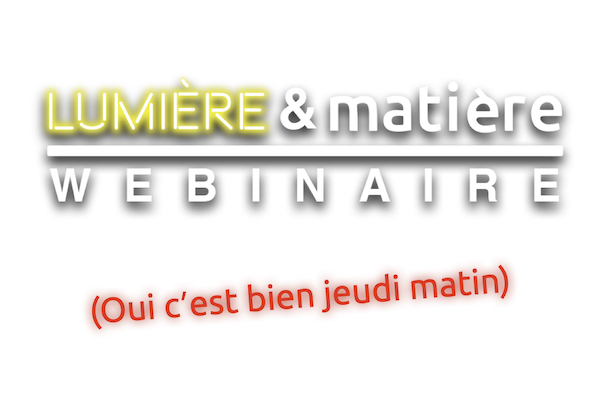 "LUMIÈRE & MATIÈRE"
(C'est bien jeudi, à 9h30)
    Oui, bien sur, on en a tous marre des réunions "Zoom", des discussions "Teams" et autres konfkols qui s'éternisent... mais là franchement… cela n'a rien à voir… il s'agit d'une petite séance ludique, éducative et culturelle pour apprendre plein de choses sur la lumière et sa magie. Tout cela entre nous, en prenant votre café/chouquettes. De quoi superbement démarrer la journée, non?
    Et même si vous avez un empêchement jeudi de 9h30 à 10h, inscrivez-vous, vous recevrez alors directement le lien pour le "replay" de cette petite causerie.
    ​​​​​​​Webinaire d'une demi-heure, jeudi 6 mai à 9h30 (heure de Paris). Inscription ouverte à toutes (et tous), membres comme "pas encore membres", en cliquant simplement ici

______________________________
    (On Thursday at 9:30 a.m.)
    Yes, of course, we are all fed up with "Zoom" meetings, "Teams" discussions and other konfkols that go on forever ... but frankly ... it has nothing to do ... it is a small fun, educational and cultural session to learn lots of things about light and its magic. All this between us, having your coffee / chouquettes. What a great way to start the day, right?
    And even if you are unable to attend Thursday from 9:30 am to 10 am, register, you will then directly receive the link for the "replay" of this little chat. 
    Half-hour webinar, Thursday, May 6 at 9:30 a.m. PST. Registration open to all, members as well as "not yet members", by simply clicking here (but sorry guys, only in french)