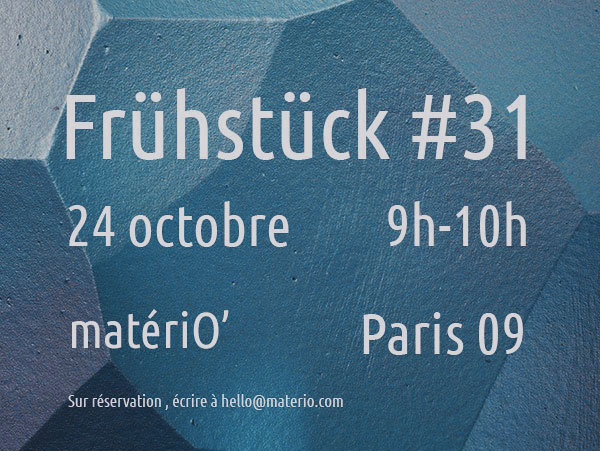 Ze frühstück matériO', 31 matériaux extra-ordinaires en une heure chrono!
Sacrée gageure, car cela signifie que nous aurons moins de deux minutes pour vous narrer chacune des histoires et spécificités de ces petites merveilles, tout en restant dans le cadre d'un petit déjeuner qui démarre dès potron-minet (à 9h pile poil) et se termine à 10h pétantes. Un véritable condensé d'innovation matière pour booster vos projets actuels et futurs. Inscrivez-vous, nous nous occupons du café, des chouquettes et des histoires.
Frühstück #31, jeudi 24 octobre de 9h à 10h. Seules conditions pour y assister, être membre et s'inscrire par retour de mail, les plus rapides seront assuré(e)s d'une place assise.
Ze frühstück matériO', 31 extraordinary materials in just one hour!
Real challenge, because it means that we will have less than two minutes to explore the amazing stories behind each of them, while staying in the context of a breakfast that starts at 9am sharp and ends at exactly 10am. A real material innovation digest to boost your current and future projects. Register by a simple reply to this e-mail, WE provide coffee, 'chouquettes' and stories.

Frühstück #31, October 24 from 9 to 10am. Only two conditions to attend, being member and registration by mail, the faster you register the more guaranteed is your seat!